D'Janae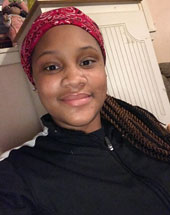 | | |
| --- | --- |
| Race: | Black/African American |
| Gender: | Female |
| State: | Louisiana |
| Case #: | LA0152 |
| Profile Updated: | 3/7/2019 |
| Photo Updated: | 2/28/2019 |
D'Janae is a teenager with a bubbly and outgoing personality. She is comical and likes to make others laugh with witty stories that she makes up. D'Janae is able to express herself in a positive manner and is a good leader. She loves being around younger children and interacts well with them.
D'Janae is very fashionable and loves to shop. She is good at braiding hair and wants to be a famous cosmetologist when she gets older. Her hobbies are singing, playing volleyball, and talking on her phone.
D'Janae is in high school, and her favorite subject is English. She would prefer to have sisters so that she can have someone to talk to.
Ready to take the next step?