Crystal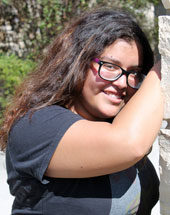 | | |
| --- | --- |
| Race: | White/Caucasian, Hispanic/Latino |
| Gender: | Female |
| State: | Texas |
| Case #: | TX0178179 |
| Profile Updated: | 12/19/2018 |
| Photo Updated: | 12/20/2018 |
Crystal is a very friendly youth who is happy most of the time. She enjoys coloring and drawing pictures. She also loves to read. Crystal gets along well with her peers and rarely gets in trouble at home or school. She has participated in cheerleading in the past. She has also played the trumpet in her school marching band. Crystal also participates in athletics, competing on her school's volleyball and basketball teams. Crystal absolutely loves animals. She has dreams of working with animals as an adult and becoming a veterinarian. Crystal values her alone time away from her siblings. When she is stressed or wants to relax, she prefers to be in her room reading or watching television. Crystal does very well academically. She enjoys going to school for the academics and to see her friends. She tends to be quiet and hard-working, and she makes good grades.
Visit me at the The Greater Wichita Falls Area Heart Gallery.
Ready to take the next step?