Crystal, Mateo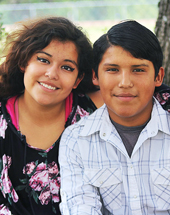 | | |
| --- | --- |
| Name: | Crystal, Mateo |
| Ages: | 17, 15 |
Race:
White/Caucasian, Hispanic/Latino
Gender:
1 male, 1 female
State:
Texas
Case #:
STX017835

Crystal, 17, female
Mateo, 15, male

Profile Updated:
10/8/2018
Photo Updated:
5/8/2018
Crystal and Mateo are an extremely close sibling group. The love they share is extremely strong and not easily broken. They have always been able to lean on each other through thick and thin. Crystal and Mateo love to have fun, laugh, joke around, play outdoors, and watch television. Like most sibling groups, they also argue occasionally. Crystal and Mateo would like to participate in everyday family activities. This brother and sister are very resilient and are determined to have as normal a life as possible. They look forward to sharing their love with their forever family. Crystal and Mateo have three older sisters who are not part of this adoption. They would like to maintain contact with them, as they are extremely close.
Crystal and Mateo need a family that is very loving, active, and structured. They will benefit from a two-parent family. They will also greatly benefit with a positive male influence who will model appropriate behaviors. Crystal and Mateo have older sisters who are not part of this adoption. They are very close with them and want a family that is open to allowing them continued contact with them.
Ready to take the next step?