Jessica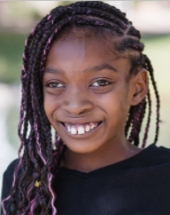 | | |
| --- | --- |
| Race: | Black/African American |
| Gender: | Female |
| State: | Arizona |
| Case #: | AZ01691 |
| Profile Updated: | 4/24/2017 |
| Photo Updated: | 3/22/2016 |
Jessica is a sweet girl who loves being outside. She has a great smile and you can see her wearing it often! Her favorite outdoor activities include playing basketball, swimming and going to the park.
While indoors, Jessica enjoys coloring or doing any sort of art project. She also loves to play with her dolls and ponies, and really likes to braid their hair. Jessica likes being read to, listening to music and dancing.
Jessica's favorite subject in school is math. She also loves learning about animals, flowers, and her African heritage. She enjoys being around people and is very social.
You will notice that Jessica has a girly sense of style and is usually wearing items with print or flowers on them. She also loves to go shopping for clothes and hair pieces and especially loves to try on jewelry.
Ready to take the next step?