Kathleen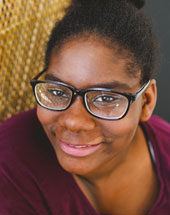 | | |
| --- | --- |
| Race: | Black/African American |
| Gender: | Female |
| State: | Pennsylvania |
| Case #: | PA01C22AB38 |
| Profile Updated: | 1/21/2019 |
| Photo Updated: | 8/20/2018 |
Kathleen, who many call K.K., is a spunky young woman with a lot of energy and personality. She has quite a sarcastic sense of humor. K.K. is creative and enjoys arts and crafts. She is always open to learning a new skill and would be open to learning your favorite activity! She is a very fast learner and will catch up to your skill level quickly! K.K. really appreciates people who spend time with her and demonstrate that they care.
She would really love to be able to ice skate and take ballet lessons. She has gotten to try both and wants to learn more. She is into what you may consider to be "girly" activities and would also like to try gymnastics or cheerleading. She likes make up, getting her hair done and finding just the right outfit. She loves to listen to music and is a big fan of K-Pop and the musical soundtrack to Hamilton.
K.K. needs some supports in school to ensure her success. She is quite smart, but needs some assistance performing to the best of her ability. K.K. will need a family who feels comfortable navigating the education system and advocating for their child. She really enjoys learning new things and is the kind of kid who would enjoy going to a museum. She is an avid reader and always has a book to recommend. She would like to attend college after she graduates high school.
K.K. needs a family who will allow her to take her time building a relationship with them. They will need to be patient, persistent, and actively seek out ways to connect with her. Because K.K. takes time to build relationships, she may do better in a smaller family with no more than one or two siblings. The family's persistence will pay off, as K.K. is loving and her best traits shine through as she gets to know you. She gives great hugs, looks out for those younger than her, and can be very giving. This will be a process, but K.K. does want to live in a family setting and be a member of a loving family.
K.K. is legally free for adoption.
Ready to take the next step?