Kathleen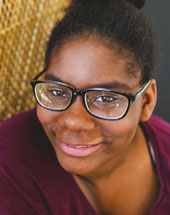 | | |
| --- | --- |
| Race: | Black/African American |
| Gender: | Female |
| State: | Pennsylvania |
| Case #: | PA01C22AB38 |
| Profile Updated: | 6/24/2019 |
| Photo Updated: | 8/15/2019 |
Kathleen, who sometimes goes by K.K., is a creative, expressive and smart young lady with a great smile and even better laugh. She likes to get her hair done, do her make-up and nails and would love to have someone in her life to do this with. She also likes music, especially singing in the car. K.K. is a huge fan of K-pop and BTS. She loves to read and always has a new book to tell you about or suggest. She has good taste! K.K. also likes to be outside soaking up the sun.
She is a very intelligent young woman and hopes to one day go to college. At different points in her life she has wanted to be an attorney and a forensic scientist. She may change her plans, but she's got big ones! She is a fast learner and picks up new skills quickly. K.K. likes learning new things and would enjoy going to museums or other fun learning experiences.
K.K. wants to be in a family, but takes time to build relationships. This would likely require a long visitation process. It will take consistent effort for K.K. to feel cared about. Once she trusts you, K.K. is a very loyal person. Her sign of trust is a hug, and she gives great ones! She is open to any family type but would like to have a female role model in her life. She would benefit from living in a diverse community.
K.K. is very sweet and generous to young children and those that are differently abled. She may do especially well with young children in the home in a smaller sized family. She does very well with adults who remain calm under pressure and who provide consistent expectations.
K.K. is legally free for adoption.
Ready to take the next step?