Carmel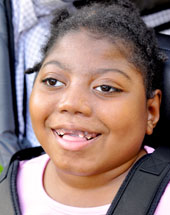 | | |
| --- | --- |
| Race: | Black/African American |
| Gender: | Female |
| State: | Florida |
| Case #: | CNET01102245 |
| Profile Updated: | 10/24/2021 |
| Photo Updated: | 10/16/2014 |
Carmel is a female child of Caribbean decent and she was born September of 2006. Meet this beautiful young child who has faced unbelievable challenges and obstacles. Despite all of her obstacles Carmel is stable medically and has the ability to respond to her caregivers. Carmel is medically needy and requires 24 hour medical monitoring, which is divided between a parent, a night nursing staff. She is currently nonverbal and non-ambulatory. Carmel loves music and responds to it, she loves her ipod shuffle and will often be seen with it on and a big smile on her face. Carmel can respond to bright lights and can respond to movement in a room. Carmel enjoys toys with lights, music and vibration. Carmel is in need of a family. We are willing train an individual, at no cost, to care for Carmel, she also can be adopted with nursing support in place to help maintain her quality of life. She is just a child in need of a loving home that can be dedicated to caring for her.
Carmel has allergies and is unable to live in a home with pets or wall-to-wall carpets.
Ready to take the next step?