Jaeteivion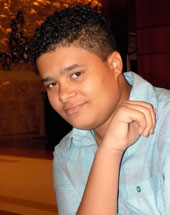 | | |
| --- | --- |
| Race: | Black/African American, White/Caucasian |
| Gender: | Male |
| State: | Arizona |
| Case #: | AZ01464 |
| Profile Updated: | 8/8/2016 |
| Photo Updated: | 7/11/2016 |
Jaeteivion "J.T." is an active, healthy youngster with a great smile and sense of humor. He has faced many challenges in his young life and will thrive with his own forever family including a mom and dad. J.T. would do best in a home with fewer children and do well with older siblings to serve as role models. He does best with positive attention, choices, and motivation.
J.T. is very likeable and loves to play sports. He is very active and is quick and agile. He loves playing with action figures and dancing to hip hop music. He takes pride in his appearance and likes to be a sharp dresser. He likes to be helpful around the home and is a very affectionate child.
Ready to take the next step?