Helping Foster and Adoptive Families

We're here to help you whether you're just starting the process to foster or adopt, waiting for a placement, or looking for post-adoption resources.

If you can't find an answer or the information you need below, we have a staff of adoption specialists ready to connect you with the resources you need. All you have to do is contact us.

The Road to Adoption
and Foster Care
Hear from real families who have walked the road to adoption and foster care, and the children whose lives they've changed forever.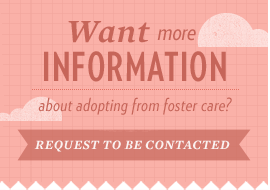 Featured Child
Name: Heather
Age: 16
Location: Maryland
Heather, 16, is a special education student in the 10th grade who is curious about many subjects, talented in art, and enjoys dance.music and science.
Featured Siblings
Name: Lillyanna, Danyel, Celestina, Crystal, Mateo
Age: 15, 14, 13, 12, 11
Location: Texas
Lillyanna, 15, Danyel, 14, Celestina, 13, Crystal, 12, and Mateo, 11, are a sibling group of five energetic and happy children who have been through a great many trials and still love each other very much. They are each blessed with unique talents and abilities, and they enjoy being outdoors, going swimming,doing crafts and seeing new things.