Helping Foster and Adoptive Families

We're here to help you whether you're just starting the process to foster or adopt, waiting for a placement, or looking for post-adoption resources.

If you can't find an answer or the information you need below, we have a staff of adoption specialists ready to connect you with the resources you need. All you have to do is contact us.

The Road to Adoption
and Foster Care
Hear from real families who have walked the road to adoption and foster care, and the children whose lives they've changed forever.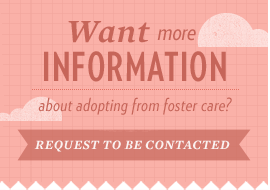 Featured Child
Name: Bruntreuz
Age: 15
Location: Kansas
Bruntreuz, 15, is a very charming, outgoing and sociable young man. He enjoys playing sports and listening to music, and likes to make up songs about things that he has experienced.
Featured Siblings
Name: Evan, Dylan, James
Age: 15, 14, 9
Location: Massachusetts
Evan, 15, Dylan, 14, and James, 9, are well-mannered brothers. Evan is a resourceful teen with a positive outlook on life. Dylan is shy at first but quite caring once he gets to know you. James is an easygoing and sensitive boy.