Helping Foster and Adoptive Families

We're here to help you whether you're just starting the process to foster or adopt, waiting for a placement, or looking for post-adoption resources.

If you can't find an answer or the information you need below, we have a staff of adoption specialists ready to connect you with the resources you need. All you have to do is contact us.

The Road to Adoption
and Foster Care
Hear from real families who have walked the road to adoption and foster care, and the children whose lives they've changed forever.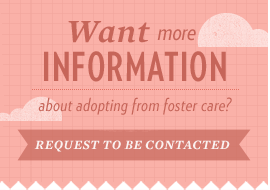 Featured Child
Name: Tony
Age: 18
Location: Washington, D.C.
Tony, 18, is a compassionate young man with an adventurous spirit. He especially enjoys going on field trips. Tony likes meeting new people and interacts well with others.
Featured Siblings
Name: Diamere, Alayna
Age: 16, 15
Location: Idaho
Alayna, 15, and Diamere, 16, are boisterous, active siblings who love to tease each other and laugh together. They both enjoy music, sports, and southern cooking! Diamere says they want a family who "stays with us for good."