Helping Foster and Adoptive Families

We're here to help you whether you're just starting the process to foster or adopt, waiting for a placement, or looking for post-adoption resources.

If you can't find an answer or the information you need below, we have a staff of adoption specialists ready to connect you with the resources you need. All you have to do is contact us.

The Road to Adoption
and Foster Care
Hear from real families who have walked the road to adoption and foster care, and the children whose lives they've changed forever.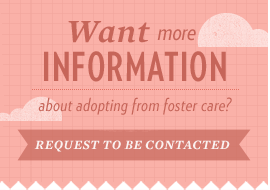 Featured Child
Name: Jose "Angel"
Age: 16
Location: North Carolina
Jose "Angel," 16, is destined for greatness. Described by others as unique, outgoing, and fearless, Angel would love to be a singer or someone famous when he grows up. His favorite subject at school is chorus.
Featured Siblings
Name: Zachary, Edith, Heather
Age: 15, 14, 13
Location: Alabama
Zachary, 15, Edith, 14, and Heather, 13, are sweet and loving siblings. When asked what they were looking for in an adoptive family, Edith replied: "Someone who will adopt all of us so we can be together as a family."