Unexpected family
Kinship care and adoption have given this couple more children than they ever planned on.
March 26, 2014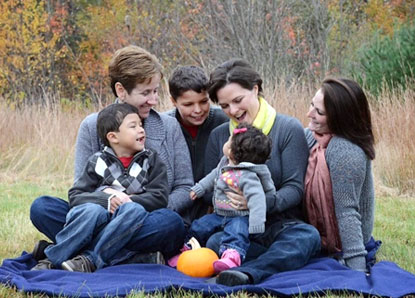 Most parents have nine months to prepare for the arrival of a new child into their families. Deb Soly and Jill Poirier had 12 hours.
"We became parents overnight to a two-month-old," said Jill with a slight laugh. You can hear the pleasant cooing noises of Nelsy in the background as Jill talks. Nelsy, who is not quite two yet, is the newest addition to their family — an addition both parents are hoping will soon become permanent.
Getting the news the night before you open up your home to a new child would seem like a stressful situation at best, but this family of six is use to it now. Joining Nelsy in this Massachusetts family is Sabrina, 22, Joshua 11, and Randy, 6. It's a family every bit as rambunctious and vivacious as you would expect.
"We like to go to the movies, go to events sponsored by Adoption Journeys, and when it's warmer, we try to find local events to attend, like to the animal zoo or a water park," said Deb. "Also in the warmer months, hang outside with the neighbors and their kids."
Like most families, however, it started out looking significantly different.
Joshua is the son of one of Deb's cousins, and when the birth mother found she was not able to properly care for her young son, Deb and Jill stepped up.
"We wanted him with his family," Deb said. From the beginning Jill and Deb wanted to take care of Joshua, but they were sensitive to the rights of the birth mother. For a time, they said, it looked as if she would be able to care for him.
"It was a bit of a roller coaster," Jill said. "Honestly we figured he should still know his family. We did some visits, but ultimately the rights were terminated."
Joshua was a welcome addition to the family, but suddenly having a younger brother was challenging for Sabrina.
"She was 11 and she was very used to being the center of attention," Deb said. "Now the children have a very good relationship. It was tough for a while as both of them got older."
Sabrina, who is only a few months shy of getting her criminal law degree, agreed.
"It was tough love at first," Sabrina said. "Eventually I realized it was nice to have another kid in the house."
Adjustments were made and bonds were formed, but Jill and Deb were not done by a long shot. The age gap between their two children was a concern and so they decided to investigate a local adoption party.
"It's a mingler," Jill said, recalling the event where prospective parents and foster children get together in a large-scale outing, which she admits seemed a little strange at first. "It seems a little bizarre, until you really think about it."
The adoption party turned out to be a great thing for the family because it let Sabrina and Joshua become familiar with some of the other kids before moving forward. In one case, Deb said, there was a child who they thought would be a perfect fit for the family, but they quickly saw that the children did not have a connection.
"It was good because we could see how personalities would fit into a home," Deb said. The family attended a handful of adoption parties before finding Randy, and it was Sabrina who knew first that Randy would be a perfect fit for them.
"You go and you see all these children who need homes and we found Randy," Sabrina said. "He was really shy at first and I wanted to break him out of that shell. I bonded with him first."
"Sabrina just bonded immediately," Jill said, and Joshua quickly followed in his devotion to a new brother. "This was another piece of our family."
Three down one to go, but nobody had any idea that Randy had a sister until they got the call late one night.
"We were done and Randy was it," Jill said. "Then I got the call from Randy's caseworker saying that Randy's mom had a daughter and wanted to know if we could take her in for awhile. The next day I was a stay-at-home mom with a two-month old." Both Randy and Nelsy have some medical concerns that made it impossible for both parents to work so Jill found herself in a totally new life.
"It's great because the boys have the stability and consistency of coming home each day to Jill and having the same routine daily of homework, snack, chores and then play time," Deb said. "Prior to that, Josh was going to the YMCA, and it's not consistent and structured enough for a child like him. Also, with Randy getting sick much of the time during the winter, someone is home if he needs to stay home, whereas before Jill and I would have to figure out whose turn it was that day. This relieved a lot of stress in our family. Even though it wasn't something we had planned on doing, it really turned out to be the best."
The biggest question for Deb and Jill now is, are they done?
"Who knows?" Jill said with a laugh. "I'm running on fumes since I've been up since four." The family is adding a new addition to their home, and Sabrina stops by at least every other day to help out.
"We've had this discussion and I joke around that next year at Christmas there will be another child there," Sabrina said. "I think honestly if the opportunity came up to help a child they would. I love my parents and I believe the world needs more people like them. My parents care for them as if they gave birth to them. I don't care if it's blood or not, it's love that makes this family work."
---
Read more adoption stories
Share your story
---