A passionate advocate
Traci Lucien found her daughter, Taylnn, on the AdoptUSKids website
May 24, 2013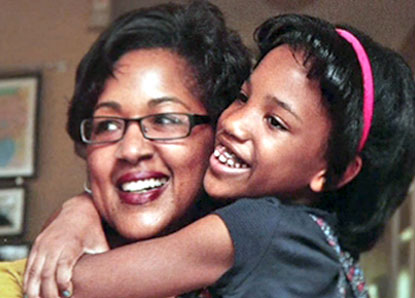 For Traci Lucien, 51, of Laurel, Maryland, the bond formed with her daughter before they ever met.
Lucien first laid eyes on her daughter, Talynn, 9, through AdoptUSKids' national photolisting of children in foster care available for adoption.
"When I first saw her picture on the site, something about her intrigued me, something in her eyes, there was something there," Lucien said.
Lucien, vice president for media operations and support for AARP, said she felt it was the right time in her life to begin a family. She was stable in her career, but was not in a relationship. She found AdoptUSKids and begin searching.
At the time, Talynn was living in a foster home in another state. They talked on the phone, exchanged letters, but Lucien knew she had to meet this child.
And when they met, Lucien knew it was for real.
"As soon as I met her, she came flying into my arms, she called me mommy. I said, 'You're so pretty.' She said, 'You're so pretty.'"
Transitioning from foster care to an adoptive home
The visits continued for four months, but Lucien knew that the next step would be for Talynn to move to Maryland, and it was the first big step toward building her family, the first of many, and one she was eager to take. Talynn lived with Lucien for six months in a foster care capacity. The adoption was finalized in 2011.
Although the transition from a foster home to her adoptive home was met with some difficulty, which was to be expected, said Traci Cremer, a reintegration case manager who handled Talynn's placement from foster care.
Cremer said caseworkers do not look for smooth sailing; it is expected for there to be glitches and troubles and difficulties. What is important is how a parent and child navigate rough waters.
Lucien proved herself to be a passionate advocate for her daughter, demonstrating the bond that has formed between them and giving her daughter an example of a loving, high-functioning adult. She sought out services, asked questions, and when she hit an obstacle, she went over it, around it, or through it, all the while remaining upbeat and positive.
Growing through adoption
"She is a role model for Talynn. She is a very strong woman, willing to speak up for her child," Cremer said.
It can be understated—the importance of sussing out resources, staying the course, and being consistent and reliable in the face of adversity, Cremer said, noting that passivity is a trait useful to adoptive parents. Often they are required to take the initiative to find needed services for their child.
"If you can't advocate for that, I don't know if there is much hope."
Talynn was removed from the care of her birth family as a toddler and was in the same foster home for several years before being placed with Lucien. Although the process of adopting from another State posed some challenges, it has been the expected bumps of removing a child from one place and moving her halfway across the country to live with her permanent family.
"I've grown a lot as a person," Lucien said. "You have all these things in your head about what kind of mother you are going to be. All of that has to go out the window. It's really about two people making a connection, the love we have between the two of us, and building trust. She knows I'm not going anywhere. I don't care how good or bad, we're in it together."
---
Read more adoption stories
Share your story
---