November 2011 Caseworker of the Month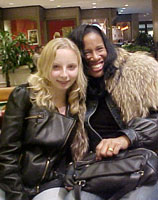 Marian McCoy
Columbus, Ohio
Marian McCoy, an adoption assessor with Franklin County Children Services in Columbus, Ohio, is our November Caseworker of the Month. In addition to providing personalized and supportive help on an interstate adoption, McCoy was also in the right place at the right time when a crisis struck.
Clearing Confusion When Crisis Strikes
Kara Ditty, who was a couple weeks away from having her adoption legalized this past July, was riding her bike to the store near her house in Virginia Beach, VA, when she was struck by a car at an intersection.
The car swerved to miss the 15-year-old, but still made contact, flinging her to the ground. Although there were helmets available, she wasn't wearing one, and Kara's head hit the pavement.
Kids get injured and get sick; it's part of growing up. But when most kids have a traumatic accident or develop a high fever and need to be taken to the doctor, there usually isn't much confusion about who is making the decisions. Unfortunately, with the adoption still awaiting legalization, this wasn't the case for Kara and her adoptive parents, Margaret and Richard Ditty. The state of Ohio, where Kara is from and had lived in foster care for about six years until the Ditty's found her on AdoptUSKids, had legal custody of her.
Riding in the ambulance beside her daughter, on the way to the hospital, Margaret Ditty called Kara's caseworker, Marian McCoy. Not only was she concerned about her daughter but she understood clearly that she did not have the legal right to make medical decisions regarding Kara yet.
As it happened, McCoy, 52, had been visiting the Dittys in Virginia for the final home visit before legalization. This was her third trip, and at the time of the home visit everyone had said their goodbyes and McCoy had headed to Hampton to meet a friend before catching a plane back to Columbus Ohio the next day.
"OK," Margaret Ditty remembers McCoy saying. "I'm getting in my car right now."
At the hospital, McCoy made the phone calls and signed the documents to ensure the Dittys would be making the decisions regarding Kara's care.
"The Dittys are her parents, absolutely," McCoy said. "I kind of stepped back to let them be her parents, because they are her parents."
She waited with the family until Kara was stabilized, then kept in close phone contact calling before she got on the plane back to Ohio and immediately after landing.
Going Above and Beyond
For the Dittys, having McCoy present put them at ease, especially with their worries of how it would reflect on them and jeopardize Kara's placement with their family.
"Upon her arrival she immediately took charge and made sure that we were able to make all the necessary decisions as legal parents would normally make on their injured child," Margaret Ditty wrote in McCoy's nomination letter.
"Although we weren't her legal parents, Marian made sure that the hospital staff, nurses and doctors consulted with us every step of the way as decisions needed to be made on our daughter's treatment needs and recovery," she wrote.
Greg Arnold, adoption supervisor for Franklin County Children Services in Ohio, said McCoy was able to provide the Dittys with a reassuring voice when they needed it most because of impeccable timing and her attitude toward her work. He also said the same accident could have happened to anybody's child.
"She's somebody who will go above and beyond in most situations," he said of McCoy. "And that's kind of typical of her."
Moving the Process Forward
Kara sustained a concussion in the accident, along with some bumps and bruises. However, the adoption was finalized on time and now she's a high school sophomore making honor roll grades, Margaret Ditty said.
While the extra care McCoy took when Kara was first injured touched the Dittys, they said her persistence in making sure they navigated the system successfully also made her stand out.
"She was on it. She knows what she's doing." said Margaret Ditty of McCoy's help working through the process of an interstate adoption. For the Ditty's, who also have three biological sons, Kara is their first child who was adopted.
Richard Ditty said that at one point McCoy believed some of the paperwork had been tied up too long.
"She goes, 'This is ridiculous.' She got involved, and no sooner than that things started moving again," he said.
For the success in helping to bring together Kara and her permanent family, McCoy says she can't take credit, instead saying the work done by the Dittys and another adoption caseworker made the difference. The first caseworker, Kim Carter, completed the placement but transferred to a different department in the middle of the process.
"This was just a good match," McCoy said. "That's the whole thing about the Dittys, they never gave you the impression Kara was an adopted child. They love her."
​Living a Life of Public Service
​There really isn't a time McCoy can remember when she wasn't involved in helping people. Originally from Philadelphia, she can recall walking the streets with her grandfather at age 4 on get-out-the-vote drives.
"I've been in social service all my life," she said.
Her grandfather was a pastor and her mother worked as a case manager and for the court system in Philadelphia, PA.
"We've just always been a very, very involved family," McCoy said.
She attended Howard University in Washington, D.C., and earned her degree in political science with a minor in administration of justice.
Her first job out of school was working as a residential adviser for the Potomac Job Corps in Maryland, and then she worked for about eight years as a probation officer in Washington, D.C., writing pre-sentencing reports.
About 20 years ago she started working in adoptions, for the first three years as an investigator. She moved into adoption case management and stuck to it. She said she couldn't do her job without the team effort of her supervisors and coworkers.
"I stuck with it because we do good work, and because it is a blessing to see children matched with families," she said.
McCoy and her husband Steven have three children, Tiana, 28, Brittney, 25, and Michael, 22.
McCoy said she was touched that the Ditty's would think to recognize her.
"More of us need to do that for one another, to say thank you," she said.
Inspired by this story?