January 2012 Caseworker of the Month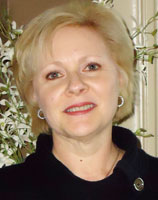 Carol Edelstein
Baltimore, Maryland
Carol Edelstein, director of the AdoptionWorks program for Adoptions Together in Baltimore, MD, is our January Caseworker of the Month. She helped a waiting mother negotiate an interjursidictional adoption, making a daunting and sometimes confusing process easier.
Interstate Adoption as an Option
When Kimberly Ryan of Pasadena, MD, considered adopting a child, she realized if she broadened her search and began looking out of State, she would increase her chances of finding the perfect match.
With the small sizes of the States on the East Coast, and the major cities easily accessible by planes, trains, and automobiles, it wouldn't be much of an imposition to take trips to visit children and have them visit. Also, considering Baltimore and New York City are approximately only 200 miles apart while the length of Texas is almost 800 miles across, interjurisdictional adoptions can be more geographically convenient in some places of the country.
Add into the mix that many States now provide online photolistings of children, with the addition of AdoptUSKids' national photolisting; it's easier than ever to find waiting children in different parts of the country.
"Of course, it was my least desirable option to go across the country," Ryan said, then added with a laugh, "But that's what I ended up doing."
Navigating an Interjurisdictional Adoption
When she found her son, Darrian, 8, on AdoptUSKids, not only was he in another State, he was on the other side of the country in Washington state. Because of the logistics involved, and the requirements of interjurisdictional adoptions, navigating the process gave Ryan considerable anxiety.
"That was probably my biggest fear when I started," Ryan said, "And my fear of flying. How are we going to do these visits?"
But instead of a headache and possibly heartbreak from setting out for an interjurisdictional adoption, Ryan said Edelstein and Darrian's caseworkers in Washington made the process go smoothly.
"Really, all my reservations were canceled out working with Carol and working with Darrian's team. They made it absolutely phenomenal."
Edelstein said she was flattered to get the nomination for AdoptUSKids' January Caseworker of the Month.
"It's lovely," said Edelstein, 58. "I felt really good about Kim going out of her way to do that."
Veronica Mo, Darrian's caseworker with the Washington State Department of Social and Health Services, also deserved credit, Ryan said.
"We had an outstanding team between the two of them," Ryan said. "They were on the ball."
How the Interstate Compact on the Placement of Children (ICPC) Helps
Although time zones and airport layovers can be challenges to an interstate adoption, there is a standardized process for placing children from one jurisdiction to another, requiring state agencies to work together.
The Interstate Compact on the Placement of Children (ICPC) is an agreement between and among States that establishes uniform legal and administrative procedures governing the placement of children across state lines. It creates one system so that adoptive parents and caseworkers have clear direction to ensure the timely placement of children in adoptive homes.
Edelstein said the compact benefits both children and families when prospective adoptive parents can look for children throughout the country, allowing workers to find the right fit for the child or sibling group.
"You want to get the best match possible, that's most important for the child, and it's great to not have to limit that," she said.
Successful interstate adoptions depend on caseworkers and agencies from different States working together, she said.
"And a lot of good, strong communication," Edelstein added.
Making an Interjurisdicational Placement Work
She said despite the sometimes great distances, and more paperwork that comes with two different States making a determination on a placement, the amount of time an adoptive parent has to visit with the child prior to placement usually works out to be the same.
"If a child lives closer by, a parent may visit more times, but they may be briefer visits," Edelstein said, adding that the visits can be longer for somebody traveling from out of town. "So we tailor it to what will work best for the family and child."
Overall, interstate placements can take longer to process, which means a little bit of longer wait time until the child can be placed with their new parents. But the biggest challenge often comes from timing the placement right, especially when moving a child during the school year.
"If a child is in the middle of the first successful school year they have had, you hate to interrupt that," Edelstein said, saying interjurisdictional placements occur most often during the summer or over the winter break. "You want the child to benefit from any success that they are having, and make the transition at the best time for the child."
In the case of Darrian, who Ryan said had lived in foster care on and off for his whole life, the placement was approved in May 2010 but he didn't fly out to Maryland until a month later in June when the school year ended.
"Our goal was to have everything in place so when the school year was over he would come here," Ryan said. "Carol and Veronica worked their butts off to make sure that happened."
Ryan also credited Edelstein with remaining in close communication after the placement and helping with issues as they came up.
"We wrap our arms around the family and help to support them from every angle," Edelstein said.
Getting Involved in Adoption
Edelstein has been with the AdoptionWorks program at Adoptions Together since 2001, and has been placing older children from foster care since 1997. The AdoptionWorks program focuses on placing African American, Hispanic, and Caucasian children in foster care, primarily between the ages of 9 and 17, into adoptive families.
Edelstein first got involved in adoption as a parent, when she and her husband, Dennis, adopted two sisters from Latvia through Adoptions Together 18 years ago. Her daughter Roxanna, 24, now lives in Philadelphia and her daughter Marina, 23, lives in Baltimore.
Edelstein grew up in Baltimore County and currently lives in Owings Mills, MD. She received her bachelor's degree from the University of Maryland in family management and community development. She has worked in counseling and education in the field of women's reproductive health, but doesn't think she will be changing focus anytime soon.
"Adoption of older children and sibling groups has been such a key and primary thing in my life," she said. "It has been my life experience and my passion."
Inspired by this story?