February 2012 Caseworker of the Month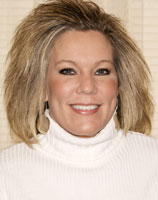 Amanda Koon
Columbia, South Carolina
Amanda Koon, an adoption specialist for the South Carolina Department of Social Services Region II Adoption Services office in Columbia, South Carolina, is our February Caseworker of the Month. Her passion in being an advocate for families helped retain a couple pursing adoption after having a child removed from their home and returned to his birth mother.
When a Fear Becomes a Reality
It was the scenario adoptive parents fear most.
After deciding they wanted to adopt, Precious and Melvin Dean of Columbia, South Carolina, had a 5-year-old boy placed with them with assurances he would be legally free to be adopted.
"We fell in love with him on sight," Precious said. "We immediately said we wanted him."
He arrived in time to help the couple celebrate their sixth wedding anniversary with a big party full of family and friends. He started bonding with his cousins, and calling the Deans "Mommy" and "Daddy."
"He belonged here, people who met him said 'He looks exactly like you,'" Precious said. "He came into our home, came into our family, we had parties at my mother's house. Other kids came; they blended so well, like he belonged there."
Three months later, the boy's birth mother petitioned a judge for custody of her son. The judge dismissed many of the stipulations the birth mother had been previously required to meet, Precious said, and then ordered the child returned to his mother.
The Deans tried every way they knew to hold on to the boy, but in the end, they were legally obligated to return him to his birth mother.
"It was heartbreaking," Precious said.
Finding Hope in Pursuing Adoption Again
The Deans were in shock, and for a time could do nothing but grieve the loss. They didn't know if they could go through the adoption process again until receiving the support and encouragement of Koon, who was assigned as their caseworker.
The Deans credit Koon for not only sticking with them during the hard times, but keeping them informed and responding promptly to any inquiries.
"It almost feels like we are her only family," Precious said. "I know she has plenty more, but the way she works with us, it feels like we are the only family she is working with. She puts that much into her job. She makes every family feel good."
Without Koon, the Deans doubt they would have had it in them to try again.
Koon recommended the Deans take some time to be there for each other, and check back. It took two or three months, but the Deans healed enough to begin trying again to finish building their family. They routinely check adoption websites, such as AdoptUSKids, and are grateful they have a caseworker like Koon working for them.
"Amanda Koon is the awesomest, most wonderific, and fantabulous caseworker in the world," Precious said. "We love her dearly."
An Unyielding Passion to Help Families
Koon, who was heartbroken along with the Deans, had also believed the placement was a great fit. She said she was "dumbfounded" by the judge's decision. It was the first and only time one of her families had a child leave for that reason.
With about 75 waiting families on her caseload, Koon said she takes each case personally, partly because she was adopted herself, and partly because she believes that every family deserves to have somebody working passionately on their behalf.
She said she was honored by the Deans' nomination for Caseworker of the Month, but also humbled, considering how many caseworkers work hard every day for children and families.
But she said giving the extra effort, and believing in her work, was the least she could do.
"To me, it really is more than job. It really is a calling," she said.
Recruiting and Retaining African American Families
The fact that the Deans are African American was not an issue for Koon when she was working with them, but many child welfare professionals in the U.S. give special emphasis to recruiting African American foster and adoptive families.
Of the 107,000 children in foster care waiting to be adopted, African American children make up 29 percent of them, according to the most recent national report from the U.S. Department of Health and Human Services, Administration for Children and Families Adoption and Foster Care Analysis Reporting System.
The AdoptUSKids resource guide Working With African American Adoptive, Foster, and Kinship Families (PDF – 2.5 MB) states that until the middle of the 20th century, African American children and families were largely excluded from the child welfare system. Children and families relied on informal arrangements between extended family and non-relatives. About 2 million children of African descent live with non-family members and family members other than their birth parents.
Koon said efforts to recruit more African American families include reaching out to African American churches. She also noted that interracial adoptions are common, and South Carolina law prohibits using race as a consideration when matching children and families.
"A child is a child is a child," Koon said.
That is the attitude of the Deans, as well. Precious said she doesn't care about ethnicity, just that the child needs a family.
"We want to be awesome parents to a child who needs it; black, white, Indian, purple, or blue," Precious said.
Following Her Heart Into Social Services
Koon was raised in Thorndale, Pennsylvania, but moved fairly frequently with her husband, James Jr., who spent his career in the Army. After he retired in 2008, the Koons figured they might as well stay in the Columbia area. Originally Koon intended to be a teacher, and worked as a teacher's assistant for years, but then opted to follow her heart into social services. She finished her degree from Columbia College in Missouri, and recently earned her master's degree in human services from Capella University.
She started with the department as a child worker, but then switched to the family side.
"It's been good, I feel like I have both sides," she said.
She also knows what it's like to be an adoptive child, having been brought into her forever family as an infant. She also has an adopted sister, and believes her life turned out better because she was adopted.
"As long as I can remember, my mother told us, 'God meant for you to be with us.' When that position came open, I just felt a strong calling for it."
She and her husband have three biological children, two boys and a girl: James, 19, who is following his father's footsteps into the Army and just graduated basic training; Alec, 14; and Kira, 10.
"It's quite the military family," she said with a laugh. "I went from being a military spouse to a military mom."
Inspired by this story?
Download the February 2012 Caseworker of the Month press release (PDF 54 KB).