August 2012 Caseworker of the Month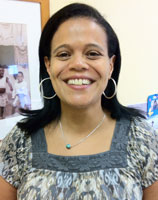 Valerie Brathwaite
Lowell, Massachusetts
Valerie Brathwaite, a social worker with Casey Family Services based in Lowell, Massachusetts, is our August Caseworker of the Month. Her dedication and out-of-the-box thinking helped connect a 19-year-old who had aged out of foster care with a woman who went on to adopt her at age 21.
You Don't Have to Be Perfect to Be a Perfect Parent
A public service advertisement got Rhys Gardiner of Massachusetts thinking about adoption.
It was a print cartoon, part of AdoptUSKids' "You don't have to be perfect to be a perfect parent" campaign, and showed a tired-looking woman popping a frozen dinner in the microwave for her kids.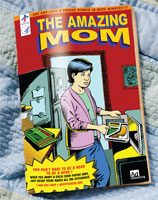 A caption on the comic reads: "The Amazing Mom. You don't have to be a hero to be a hero."
"I had never thought of adoption. I expected you needed to be a married couple with other children, and have had experience parenting," said Gardiner, 49, adding later with a laugh, "I thought, 'I can microwave a frozen dinner.'"
Gardiner was drawn in by the thought of providing a forever family for a young person making the transition to adulthood.
"I didn't realize older kids and teens were waiting to get matched. When I heard that, it went from feeling concerned and wishing there was something I could do, to helping children in the system, to 'Oh my gosh, there might be a family waiting for me.'"
The AdoptUSKids website was effective at encouraging Gardiner to think beyond preconceived ideas about what makes a good parent – consistency and caring mean more than home ownership or previous parenting experience. She began to explore AdoptUSKids' resources, articles, stories, and links to individual States' adoption websites and Heart Galleries.
Adopting Older Teens and Young Adults
But as she searched, she realized prospective parents, social workers, and foster youth didn't know a lot about adopting after the age of 18 and that it's possible and rewarding for families and foster youth.
While networking and attending events through the Massachusetts Adoption Resource Exchange, Gardiner met Valerie Brathwaite, a social worker with Casey Family Services based in Lowell, Massachusetts. They spoke on the phone, and although Brathwaite said a youth did not immediately come to mind, she would keep Gardiner's phone number and wouldn't forget.
"She was very thoughtful and really listened," said Gardiner, who nominated Brathwaite for AdoptUSKids' Caseworker of the Month award.
Gardiner heard back from Brathwaite about a year later.
"One day, out of blue, she called and said, 'I think I have perfect match for you.' She was so right!"
Victoria, then 19, was a college student who had left foster care for the dorm. She spent summers working at a camp, but needed a place to go when the dorms closed.
Last month, Gardiner and Victoria, now 22, celebrated the one-year anniversary of Victoria's adoption. She is currently living with Gardiner and preparing for graduate school. Gardiner has also been matched with another older teen, a boy, who had been listed on AdoptUSKids.
"Valerie was always there with encouragement, and returned each call and email, even post-formalization," Gardiner said.
Although Brathwaite said she doesn't feel she went above and beyond in nurturing the match, insisting Gardiner and Victoria are doing the hard work, Gardiner credits her for being responsive, supportive, and patient, among other things.
"She is funny, down-to-earth, and unflappable," Gardiner said.
Victoria added, "Valerie B. is not only my former social worker, she is also an addition to my family."
Brathwaite became interested in social work while in college, interning as an undergraduate with the State and then with the corrections system as a grad student. Following graduation, she landed a job with the Massachusetts State Department of Children and Families working with adoptions. She has been with Casey Family Services for 15 years.
Brathwaite and her husband, Gus, have two children, Paolo, 15, and Sofia, 11. They live in Somerville, Massachusetts.
"I feel like I was doing my job," Brathwaite said.
Brathwaite believes not just young children, preteens, and teens need permanent, loving homes, but also young people in their late teens and early 20s as well.
"Just because someone is 18 doesn't mean they don't need a family," Brathwaite said. "Throughout life people count on and depend on their families, and especially for people ages 18 through 23, it's a critical age, when you start needing family even more than younger children."
New research into the human brain has found that people in their late teens and early 20s undergo tremendous developmental changes. Add to that the task of picking a college major or beginning a career, embarking on mature relationships, and making day-to-day decisions for themselves, it is an exciting time in a person's life, Gardiner said.
"The choices that you make at that age cast a really long shadow," Gardiner said. "I felt I could probably be a terrific parent for a young person in those years."
Building a Parent-Child Relationship With a Teen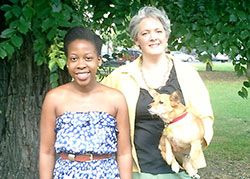 Although relationship building is important between caseworkers, youths, and families, it becomes vital with older children, especially those aging out of the system.
"Val really understood that for older teens to make a connection with a new adult they really needed an introduction and support and somebody to bounce their thoughts off," Gardiner said, noting that they are legally adults and can make their own decisions. "You can't just take a kid that age out for ice cream and ask what colors they like."
Instead of the traditional foster-to-adopt model, Brathwaite structured the adoption as mentorship-to-adoption. Brathwaite had known Victoria since she was 15, and knew she was considering transferring colleges. So Brathwaite gave them a task to work on together: researching different schools.
"It was really cool, it was a great way to get to know each other," Gardiner said. "It showed her I could be of use."
Gardiner and Victoria also outlined an agreement, detailing what Victoria could expect from Gardiner.
Brathwaite met or spoke one-on-one with Gardiner and Victoria monthly, and with them together for dinner.
Brathwaite's relationship-building strategy centers on dialogue.
She asks older youths to look into the future, and not only 10 years down the road, but four years.
"When you get married, who would you like to be at the wedding? Who would you like to give you a baby shower, those kinds of things."
It is important to acknowledge the pain and loss they experienced in their past, Brathwaite said, but that is combined with encouraging them to open themselves up.
Technology proved an asset keeping the dialogue flowing. Brathwaite and Victoria texted back and forth, and Gardiner picked it up as well.
Brathwaite said texting helped foster communication in two unique ways.
First, it allows immediate not noninvasive access.
"I have a teenage son," Brathwaite said. "Sometimes if I call him, he won't answer the phone. If I send him a text, he answers right away."
Also, because texting is really writing, it can be easier for some older youths to express complex feelings, even if it is 140 characters at a time.
"Sometimes kids give you a better, more honest, emotional answer through texting, instead of having to look at somebody and open their mouths," Brathwaite said.
Inspired by this story?
Download the August 2012 Caseworker of the Month press release (PDF 53 KB).