Celebrating National Foster Care Month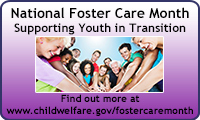 5/1/2013
During May, the child welfare community pauses to recognize foster parents and thank them for their service to vulnerable children, youth, and families. Agencies across the country hold banquets, programs, and other creative events to honor foster parents.
The Children's Bureau—together with its information service, Child Welfare Information Gateway; the National Resource Center for Permanency and Family Connections; and the National Resource Center for Youth Development—has launched the National Foster Care Month website. This year's theme is "Supporting Youth in Transition," and the website provides resources that highlight a variety of practices and approaches you can use to support your work with youth. These include:
Additionally, the website from the National Foster Care Month campaign works to draw attention to the year-round needs of children and youth in foster care. For more information, access the Foster Care Month Toolkit that contains brochures, posters, promotional graphics, and other digital materials.
Foster Parent Recruitment and Retention Resources
If you're looking to recruit foster parents, or retain the ones you currently have, we have many tools and publications available to assist your agency's efforts. Use these free recruitment and retention resources to learn how to:
Develop a diverse pool of foster and adoptive families
Facilitate interstate and interjurisdictional placements
Enhance your retention efforts through good customer service principles and tools