Effective Strategies to Overcome Barriers to Interjurisdictional Placements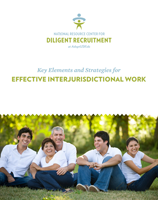 2/21/2013
Various jurisdictional boundaries separate child welfare systems—cities, counties, boroughs, States, Tribes, Territories, and countries—and those boundaries can represent significant barriers in finding families for waiting children. Child welfare professionals, however, have the potential to facilitate the timely movement of children and youth across these jurisdictions to achieve what every child and youth need and deserve: a permanent family.
Our new publication, Key Elements and Strategies for Effective Interjurisdictional Work (PDF – 2.2 MB), from the National Resource Center for Diligent Recruitment at AdoptUSKids highlights how child welfare agencies can work with others involved in the child welfare system such as court systems, judges, and Court Appointed Special Advocates (CASAs) to make interjurisdictional placements possible.
What You'll Find Inside this Publication
How to explore interjurisdictional placements while concurrently seeking placement options for children close to home
How to build capacity and promote effective interjurisdictional practices within your agency
Real-world strategies that child welfare leaders have used to make interjurisdictional placements work
How to establish and use border agreements that support interjurisdictional practices
How effective attorney practice can improve interstate placements
A checklist for judges on how to improve the interstate movement of children in foster care
Sending and receiving ICPC (Interstate Compact on the Placement of Children) checklists for child welfare agencies
Case studies from public agencies that have successfully used interjurisdictional placements in order to achieve permanency for children
Download Key Elements and Strategies for Effective Interjurisdictional Work (PDF – 2.2 MB).
More Resources for Interjurisdictional Placements
We have a variety of services and tools that can help clarify the processes involved in interjurisdictional placements, build your agency's capacity to use interjurisdictional placements as a great option for achieving permanency, and support your efforts in working across jurisdictional boundaries. Take advantage of these free resources and services offered through the National Resource Center for Diligent Recruitment at AdoptUSKids: