Tanisha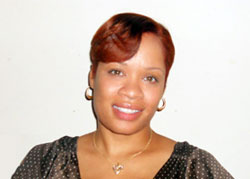 Tanisha
Verona, New Jersey
Tanisha A. Cunningham, 37, of Verona, New Jersey, refused to be defined by the stereotypes of youth who age out of foster care. After years of abuse and neglect, she took matters into her own hands to find meaning and purpose in life.
Today Tanisha is the founder and CEO of The Underground Railroad to Success, a nonprofit dedicated to empowering foster youth aging out of care. She shares with us her story of believing she could rewrite her own destiny.
In Tanisha's own words
My journey into foster care started in New York at age three when my mother left me in a staircase of a project building telling me to wait there for her. Several hours later I was picked up by two strangers who would later tell me that my mother was not able to care for me anymore. You see, the cares of life got the best of her and she decided that motherhood was too much to bear.
Between the ages of three and 12, I was back and forth between being in foster care and with my mother. During those times, I can honestly tell you I don't remember a day going by that my mother didn't either physically or verbally abuse me. Most frequently, during my baths, she would hit me all over my body while telling me how ugly I was. Why you ask? She never had a reason. I just became her punching bag when she became frustrated.
Then the day came when I decided I didn't want to get beat anymore. I was 12 years old. After receiving my last severe beating, I remember saying to myself that if she doesn't kill me, I would kill her out of self defense. That day I ran away from home never to return again.
The state of New York later became my father, and the City became my mother. I entered into congregant care, also known as a group home. I lived in many group homes until I aged out. You would think that life would have gotten better for me in foster care, and that I would have been cared for, loved, protected and guided. However, that was not the case.
You see, foster care became my battleground for learning how to survive on my own. Like with all wars that one engages in, I became extremely violent, full of anger and wanting to destroy anyone who I felt was attacking me. As foster children, we are like soldiers living on the front lines fighting the battle to overcome adversity on a daily basis. Wounded, scared and confused, some foster children leave care without a sense of knowing what the future holds for them because they are unprepared.
I was determined not to allow adversity to determine my destiny. I took the bull by the horns and decided to take control over my life. I didn't always know what to do or how to do it, but what I did know was I needed to take responsibility for my life so I could have a brighter future. I was relentless in my quest, never being afraid to ask for help or ever thinking that I was weak because I was in need.
I was determined not to wear the labels that foster children are so receive —uneducated, angry, troubled and at risk. Instead, I wore my own labels that spelled out—determined, successful, educated and yes, even beautiful. With that, I was able to transition out of care successfully, receive my high school diploma and later obtain an Executive Masters of Public Administration degree from the Rutgers School of Public Affairs and Administration.
I have since worked in government agencies for more than 17 years, including the New York Administration for Children's Services. Recently, I was able to achieve my lifelong dream of founding and becoming the CEO of my own nonprofit called The Underground Railroad to Success. Through my organization, I'm able to help others aging out of foster care find their way through the tunnel of independence to find their own success. If I could do it, anyone can. You just have to believe on purpose!