Merli's Story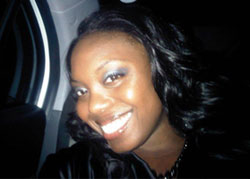 Merli
Brooklyn, New York
Merli Estime, 27, of Brooklyn, NY, was born in Belgium to Haitian parents who relocated to the United States on a visitor's visa just three months after she was born. Despite connections to three countries, she couldn't claim citizenship to any of them growing up.
"I can't say I'm an American, I'm not from Belgium, either," Estime said. "I call myself a citizen of the world."
Estime needs a second to think when asked the total number of foster homes she lived in after her mother died when she was eight years old, and after her father would leave her alone to care for her two younger siblings with no food or supervision.
"I've never counted," she said, estimating the total to be at nine or 10. "And my memory isn't getting better with age."
Despite the hardships, she can glean something positive from her experience with chronic instability.
"A good thing that came out of this is that I easily adapt to the environment," she said. "But I guess the bad thing, I always felt like, looking back, if I made a mistake I'd be moving out of whatever foster home I was in. I didn't trust people."
Feeling powerless and alienated
For a teenager alienated from the world in more ways than one, Estime has had to adjust to a constantly shifting, sometimes abusive, landscape — six foster homes in a span of five years — plus make sacrifices to ensure she didn't lose touch with her siblings.
The things she lacked, the things she wanted, were stable, permanent relationships. This scarcity of stability was reflected not only in the stream of caseworkers she had assigned to her as she grew up in the foster care system, but also her immigrant status.
"When I got used to one caseworker, that person would leave and I'd have to start all over again," she said.
Her teenage years are fraught with doubt, and Estime felt profoundly powerless to affect her circumstances.
"If I had a problem, rather than just trying to fix it, I would just give up and say, 'This is the way things are,'" she said.
Finding strength from within
It wasn't until she was 16 that she felt somebody was looking out for her after reconnecting with a social worker and her husband, who Estime had known when she was younger.
Just having people in her life she trusted, who she knew loved her, made the difference. With a stable, constant relationship, Estime finally felt she wasn't running into a headwind.
"I was able to say, 'OK, this is hard, but I can finish it.'"
Even after emerging from a childhood marked by chaos with a college education — earning her bachelor's degree in media, society, and the arts from Purchase College, State University of New York — adulthood has demanded its own sacrifices of Estime.
There was a scramble to secure a green card before she turned 21 and aged out of the foster care system. On her birthday that year, when she was sure any other young adult would have been out celebrating, she cried.
In the end, Estime did get her green card, but the final episode in a childhood spent living in the foster care system left her feeling even more like she didn't matter to anyone. It felt like the final insult to injury.
"Nobody started working on it until then, even though it was something that was known for years, since I was 11," she said.
Keeping her heart open and helping others
When she graduated from college, she entertained ideas of going overseas to teach and explore different career paths. But her sister, Marie, then 17, was in the same foster care system that Estime had grown up in.
"I didn't want her to go through this," she said.
Estime started the process and officially adopted her sister about a year ago. They now live together in a two-bedroom apartment.
It was a bittersweet reunion for a young woman with the world finally open to her.
"I could have been exploring options, crossing out options," she said. "But I didn't have that choice. There was nobody else to care for my sister. I had to take up whatever job came my way."
Estime worked retail at first, but in January she landed a job as a youth advocate for Steinway Child and Family Services in Long Island City. She works with youth ages 11 to 24, assisting them with education, employment, and other aspects of their lives.
In her work she sees herself solving some of the problems that affected her while growing up.
"That's the great thing about working with them, knowing that I can see myself," she said.
For those young people who feel they are alone, Estime offers this advice: Keep your heart open to the possibility that you already have somebody who cares about you.
"Sometimes it's not a mom or a dad, sometimes it's not an aunt or uncle or cousin," she said. "Sometimes it's a teacher at school, or a social worker you vibe with well, or a counselor, it could be anybody."
Even during the worst of times, she said, you have to keep your heart open.
"It's not always going to be that way, always keep working hard and whoever it is who cares about you, hold on to them and keep going forward."
Find out more how to adopt and how to foster.