Manny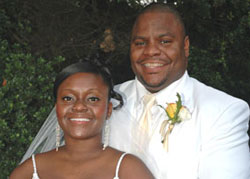 Manny
Manny "Bumper" Howard spent 16 years in the foster care system and is now an entrepreneur, educator, youth pastor and nationally recognized motivational speaker. He believes faith, family, education and great health are the most important keys to battling life's challenges.
Manny has spoken to children on behalf of programs offered through the Department of Health and Human Services, U.S. Sen. Arlen Specter's office, Valley Forge Military Academy and College and more. He is available for speaking engagements, trainings and workshops by emailing manuelhwrd@yahoo.com or calling 610-203-4595.
Manny's story in his own words
Two years old, crying, lonely and scared to be thrust into a complex world of foster care. I barely knew my name and was forced to give up the eternal bond with my biological mother and father due to them having me in their mid teenage years. Such trauma is completely devastating to the development of any child born into this situation.
Our early childhood shapes the person we are to become. We learn how to talk, walk, trust, cuddle and love. I was not able to experience all these joys with the parents who created me. Looking back I must have felt an eternal disconnect with my biological parents. I had no choice in the matter. It was like I didn't even exist. I can only imagine what my little body was going through physiologically and psychologically.
The early years of my childhood are a blur on purpose. I just remember feeling like an outsider. My foster family had five older children and one younger than me. I always felt different, starting with the fact that we looked nothing alike. How was I supposed to trust this new family and new surroundings?
I was a small fish in a big pond. Everything was brand new to me, including my mother, father, brothers and sisters. In this new house I must have felt overwhelmed. This would be my resting place for the next 20 years. My foster mother also had a daycare for many years in the home. She would babysit other children in the community. When the other kids were around I didn't feel so alone. The fact that they were different made me feel better. I didn't feel like the only outsider.
I was a very hyperactive child with a bad attitude. I would "Hulk" out whenever someone made me angry, which was the majority of the time. As a foster child I struggled with trust, love, depression, anger, loneliness and abandonment issues. These struggles manifested in anger, which resulted in outbursts and rage. I would typically fight fire with fire. I would get a beating with a switch or belt for being bad. Then I would respond with fits of rage and yelling hurtful comments such as "you're not my real parents", "I hate you", "I am leaving", and "I don't love you".
There were a lot of challenges early on. It took years to get over the anger, depression, and low self-esteem. These things haunted me up into my adult years.