Latasha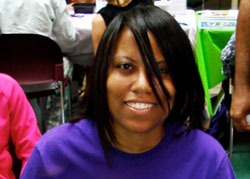 Latasha
Latasha C. Watts, 36, grew up in foster care and aged out of the system at age 18. She was homeless and lacked essential skills many of us take for granted. She eventually landed on her feet, but only after surviving cancer, becoming a single mother, and overcoming a controlling relationship.
Today Latasha runs The Purple Project (sm), an online support network designed to help youth who have gone through foster care. The project is named after a pair of purple pants she grew attached to during her time of transition because they represented the only thing she had total control of in her life.
Latasha's story in her own words
Most people wake up each day with a mom, a dad or some form of a family structure. But for some of us in the foster care system the reality of this type of life is few and far in between. I don't own any baby pictures of myself and only acquired a few pictures during my adolescence and teen years. It's as if a whole section of my life disappeared.
I spent my entire childhood in the foster care system drifting in and out of relationships and trying to find what one would call normal. While I didn't bounce around from place to place, I did face turmoil. In addition to enduring the normal difficulties children and teens face in their developmental years, I also experienced the loss death brings, exposure to molestation and drugs and turning to alcohol all before the age of 15.
I officially aged out of foster care at age 18, just two days shy of my 19th birthday and a day after graduating from high school. I was lost, alone and broken. The system that once kept my mere existence alive had vanished. One would think the system that put me here would have prepared me better for the world I was about to face.
I experienced a form of homelessness without a stable place to call my own. Not to mention I lacked the essential skills most people take for granted such as cooking, washing clothes, paying bills, maintaining a bank account and even holding down a job for more than a week.
Life became survival of the fittest for me. I learned how to hustle and manipulate any situation to get the results that I needed. It's definitely not a place you want to be.
I finally caught a break at age 20 and could breathe a sigh of relief. I found a program designed for people just like me. Even though the program only provided services up to the age of 21, for at least a year I had a place to stay and something to eat by attending college. But I was forgetting one crucial factor; college at that time in my life was not right for me. Like many foster kids, I struggled to even get out of high school.
I spent the next year living on campus and never going anywhere, especially during the holidays and school breaks because I had no place to go. I was eventually kicked out of college and spent the next two years in a controlling relationship. During this time, I was also diagnosed with obsessive compulsive disorder, became a single mother and battled cancer all before the age of 23.
Words cannot express the lack of resources and support for children who age out of the foster care system. That's why I founded The Purple Project (sm), an online support network designed to help change the negative outcomes many of us face after being a part of the system. It's a place to connect and share experiences, talent, and information on resources. Most importantly, it's a place to find a community of support.
The project is named after a pair of purple pants I grew very attached to during my transition phase after aging out of foster care. They represented the only thing I had total control over, and I kept them for many years.
It's been almost 17 years now since I aged out of the system, and a lot has changed. I'm married with a family of my own, but not a day goes by that I forget about the difficult roads I had to travel to get here. I will never forget what it felt like not to have a strong network of people or a family to guide me in the right direction.
I am truly grateful that God has given me the opportunity to be here and to challenge each and every one of you to make a difference in the lives of children in foster care. Being in the system does not mean you are alone. If you want to know more about the Purple Project (sm) or how to help, contact me at 216-269-6667 or info@thepurpleproject.com.