Deborah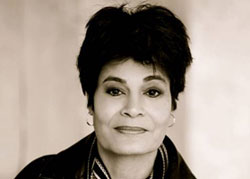 Deborah
Deborah Jiang Stein was born heroin-addicted in a federal prison and adopted out of foster care at age four. She struggled for years to find a sense of identity and fell into a rebellious life of drugs, heavy drinking, and crime.
She eventually found healing through piecing together her puzzled past. Today Deborah is an author and inspirational speaker about resilience and re-invention. She has also become an adoptive mother herself.
Deborah's story in her own words
Of all that I am at age twelve —withdrawn, angry, timid, glum, and sometimes mute—I'm not a criminal. Not yet. No one sees it in me. My father calls me Mouse. But something is amiss then, more than I'm desperate to belong, frantic for information about my identity. Where was I born? Why the hint of Asian in me, and Latina and more possibly, my caramel colored skin, my ambiguous multiracial looks a target for schoolyard cruelty?
My adoptive family—Jewish academics who teach English Lit and always have season tickets to string quartet concerts and the ballet—will not, or cannot, tell me anything about my birth. I'm coming of age in Seattle in the 1960's one-race world of only black and white with no in-betweens and transracial adoption is rare, and even rarer, multiracial people.
For as far back as I can remember, the battlefronts are many for me. My main enemy, my mother, my adoptive mother, who I either ignore or yell at. There is my mother's main collaborator, my father. And then the damage on the side—the host of neighbors, teachers, and classmates, and sometimes my brother—whoever runs afoul of me in some way. In the beginning, the attacks are mere insolence, a violent tantrum, or I toss a bag of flour on a sports car wet from rain in our Seattle neighborhood, or some other petty larceny or vandalism—everything I can dream up. I start toilet paper fires in the middle school bathroom, skip classes, and pull fire alarms.
Grounded one afternoon, a common enough event, I stalk the house for clues, a scavenger for my past, snooping in my first breaking-and-entering exploits. I slide into my parents' bedroom, careful not to make a sound. Check the dresser, I think, for no reason other than I know it's prohibited to pry into my parents' belongings. There, in my mother's lingerie drawer, buried under softness and silk scented with perfumed soaps, a single folded paper hides like a rumpled stowaway in a first class cabin. Tucked under the flowery plastic drawer liner, the typed letter reveals that I was born in the Federal Women's Prison in Alderson, West Virginia.
The letter didn't fill a hole. Instead, it's like a crack in a dam that widens, breaks, and then floods the valley. Whose daughter am I? I wonder then. Am I the child of a criminal, or the daughter of two Jewish English professors?
At age thirteen, snooping grows into shoplifting and setting fires. Smoking weed behind the school gym turns into mainlining at age nineteen. Later, a pistol replaces the switchblade in my pocket. Petty crime escalates and I risk my freedom in one life-threatening escapade after another. It all leads me in a dive through years of drugs, heavy drinking, and the lifestyle that goes with it. All along, something I only half understand compels me.
Not until years later when I turn my car into the parking lot for a private tour of the Federal Women's Prison in Alderson, West Virginia, nestled in the achingly familiar Appalachian Mountains, do I realize what I probed for all my life. I'd been searching for a way back home to my birthplace where I'd spent the first year of my life. It was the last place I knew my birth mother.
The search takes me to the Alderson prison warden to re-visit the dormitory-style cell where I lived as an infant. My every molecule shifts in me as I settle inside while I'm at peace in this room.
Finally my puzzle pieces come together and help mend my fractured pieces when I learn the complete story of my roots in prison: my birth mother was a heroin addict and I was born addicted. I'm part Greek along with all the rest, and I also lived with foster families before my final adoption was completed around age four. Finally I can face my mother, my adoptive mother to reconcile with the woman I resisted all my life, the mother who loves me through all those years of defiance. It takes over two decades for me to "hire" her as my Mother. By then she's in her seventies.
I recognize my struggle as one of multiple severed attachments, and that my drive to reconcile nature and nurture is almost irreconcilable. After working hard to straighten up, bounce back, and find a place to belong, I ask myself, "Am I who others think I am, or am I what I think I am?" It's taken years to define that, and I'm still exploring. But then, isn't this the human condition to search for who we are?
I've been clean now for years. Today, I tour as an inspirational speaker to share my story of hope, my journey from rebellion to re-invention, as evidence that anyone can transform. My audiences are my former "enemies"—adoption and foster care networks, social service conferences and events, professionals working with childhood mental illness, women's prisons, women's groups, drug and alcohol recovery networks, civic groups, and other conferences. Sometimes progress is not always linear, but it is always possible. Sometimes, it just takes walking to the edge to find your center.
I am proof of what persistence and resilience can accomplish.
Find out more about Deborah Jiang Stein.