The Windwalker Family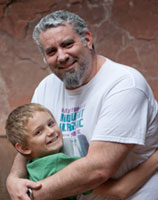 Windwalker Family
Colorado
Talon Windwalker of Colorado, who is a foster alumnus himself, is helping redefine what home means to his son Steven, 10, who he adopted from foster care four years ago. The two have been traveling the western hemisphere for the last year leading 'nomad' lives in the school of the world.
On the TV screen were the words, "Havana, Cuba," setting the location of the scene. Windwalker, 43, and his son Steven were sitting together, and a skeptical Steven declared, "That's not Havana."
"I just smiled," said Windwalker. For the past year, the father and son have been traveling the western hemisphere together, with no immediate plans to return to the U.S. "I love that he knows that."
So far, Steven – who was adopted from foster care by Windwalker at age 6 – has been to seven countries, has gone scuba diving more than 30 times, and is currently in Ecuador, where he is beginning to absorb Spanish.
Windwalker, 43, an avid traveler and foster alum himself, wanted to give his son the world. Now, Steven's classroom is the world and his father is his teacher. Steven's favorite subject: science. Least favorite: writing.
Thriving and Growing
But it hasn't been just the exposure to new cultures that has benefited Steven, his father said; the experience has also been therapeutic.
Steven suffered abuse before being adopted by Windwalker, and dealt with extreme anxiety and sensory processing disorder. When he came to live with Windwalker, he could not speak intelligibly. He was prescribed medication and went to speech therapists.
Through the past year while traveling, Windwalker said Steven has transitioned off his medications and is thriving. In the safety and familiarity of some of the places they have called their temporary homes, Steven can roam freely.
"He couldn't have that level of independence in the states," Windwalker said.
Right now Steven says he wants to be an inventor when he grows up.
"I like to build stuff," Steven said.
He also doesn't miss life back in Colorado.
"No, not really," he said. "My friends a little bit. The snow a little bit."
Living a Nomadic Life
The initial plan to head out in the world indefinitely started in 2010 as brainstorming for a simple trip, which kept getting longer and more involved. Soon a plan for a vacation turned into an extended stay abroad, which led to the decision to get rid of most of their belongings and begin a great adventure.
"The more we started talking and planning, the longer it got, the bigger it got, and we just decided, 'Why not?'" Windwalker said.
He admits that if not for Steven, he likely would not have moved abroad. It was the chance to give his son the invaluable education of experiencing all of what life and people have to offer that made it happen.
"We've approached this as a team," Windwalker said. "He had plenty of time to be part of that decision-making, to see what he thought. He was the reason we started in Mexico."
To make a living, Windwalker works as a scuba instructor, a useful vocation when living by the sea. He also has worked remotely as a medical transcriptionist and writes for travel websites. These kinds of jobs afford him and Steven a great deal of mobility.
Additionally, Windwalker shoots photographs and writes for his personal blog, 1 Dad, 1 Kid, 1 Crazy Adventure: Giving My Son the World, which makes enough to pay for hosting fees plus a little extra.
Because Windwalker found a financially sustainable way to live abroad, he and Steven get to spend a lot of time together – not to mention the richness of Steven's home-based education.
Looking Before Leaping
The decisions to adopt and raise his son as a single father while traveling the world weren't made on the fly. After deciding to pursue adoption, Windwalker wanted to first get in a bit of traveling and live his own life for a bit. But while visiting Paris, France, he had an epiphany: he was ready.
Likewise, the decision to lead a self-described "nomad" life was first considered while Windwalker was traveling in Peru after adopting Steven. He met a family of four who was cycling North and South America. The mother in the family is a special education teacher, of interest to Windwalker because Steven was at the time taking special education classes at school. After talking about it with the family who was traveling and Steven when Windwalker returned to the U.S., the idea transformed from a dream to a possibility.
The process wasn't without doubt. Windwalker said he worried about making a living, and was concerned about his own independent streak.
"I wasn't even sure my personality would be able to handle being the type of parent I wanted to be, being around my child 24/7," he said. "That hadn't been my experience before."
Finding Home
Right now the two do not have a firm plan for high school. Some kids want to remain in one place for those years, and Windwalker would accommodate Steven's wishes if that's the case. If Steven would prefer world schooling, Windwalker said he would prepare him for the GED tests, or enroll him in a child-directed learning program so that if he decides to pursue a college degree he would have that option.
"We're taking a 'cross that bridge when we get to it' approach about high school," Windwalker wrote in an email.
Part of Steven's education has been to prize people and relationships over things, and that includes redefining what "home" means.
"Home is where we are," Windwalker said.
Inspired by this story?
Media who would like to interview the Windwalker family, contact us at info@adoptuskids.org or 888-200-4005.