The Hill Family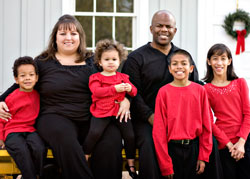 Hill Family
McKinney, Texas
In the Hill household, the month of December takes planning. There is of course Christmas, which Lisa Hill takes very seriously, and a double celebration on Dec. 9 with it being her husband Eric's birthday and the day their family went through the sealing ceremony at church.
Sealing is a ritual in the Mormon faith that bonds families together for eternity. As their family has grown and now includes five adopted children, four of which are two sets of sibling groups, the importance of holidays grows as well.
"I consider that part of the holidays," Lisa Hill said, noting that for the rest of their lives, Dec. 9 will be a day of reflection and togetherness. "We all have that day in common."
Lisa Hill said the legal process, where adoptions are finalized by a judge, makes the Hills a family in the eyes of the law. But the sealing ceremony makes them a family in the eyes of God.
"We want them to know they are stuck with us forever," Lisa Hill said, adding with a laugh, "Whether they like it or not."
Deciding to Adopt
After learning they would not be able to conceive naturally, and deciding against fertility treatments, the Hills planned ahead. Lisa Hill is white, Eric Hill is black, so they decided they wanted children who were biracial or at least resemble their parents. They researched livable, affordable cities because they wanted to find a more family-oriented hometown besides their home in Southern California. They decided on the suburb of McKinney, Texas, in the Dallas-Fort Worth metropolitan area.
Lisa Hill quit her job in human resources and started providing child care, if only to allow the couple to adjust to the drop in finances. For parents looking to adopt though, there are some things one cannot plan for.
"When you decide to be a parent, you don't get to pick and choose what you end up with," she said.
The couple's oldest children, a biological brother and sister sibling group, are just one – or two – examples of having to adjust. Adrianna, 12, and Miguel, 11, were 6 and 5 when they came to Lisa Hill's daycare. Their biological parents' rights had been terminated and a member of their church was in the process of adopting them. However, the adoption fell through.
The Hills had already completed their home study – another testament to Lisa Hill's aptitude for planning – so they received a call from a social worker asking if the couple would consider providing foster care for the two children.
"They asked if we could take them for a couple weeks, a year later the adoption was finalized," Lisa Hill said.
The couple had wanted to adopt young children, infants, and decided against adopting older children, which meant they weren't considering sibling groups.
"Everything we said we wouldn't do, we did," Lisa Hill said. "But it worked out exactly right."
Adopting a Second Time
Six months later, while away from the house, Lisa Hill was struck by an overwhelming urge to return home. She walked inside to a ringing phone. On the other end was someone calling from a local hospital. The voice said a baby had been born in a high school restroom, underweight with a hole in his heart, and the family in line decided against adopting the child.
The hospital worker said, "We heard you might want a baby, and if you do, come get him tonight."
Three days old, Kaleb, now 5, became a part of their family and is now ahead of his age group socially, physically, and academically.
Pursuing a Birth Adoption
In the case of their first three children, Lisa Hill said they didn't really have a choice.
"We were going to be parents whether we liked it or not at that point," she said.
So for the next adoption, the couple registered with a church agency and was matched with a birth mother who was 20 weeks along.
The experience was in sharp contrast to their prior experience. First, it was a longer process than they were used to, having taken their first three children home with little notice. Second, it was highly emotional, fraught with doubts about whether the birth mother would change her mind.
The adoption was successful though, and Angelina, 2, became a part of the Hill family.
Then, about a month ago, the Hills got another call. Angelina's birth mother had given birth again, and the Hills were asked if they wanted to adopt her biological half sister.
"We're not going to say no to another biological sibling," Lisa Hill said.
This month, on Dec. 9, the family went through another sealing ceremony, this time adding baby Cheyenne to their family.
Celebrating Family
With two sibling groups, the couple doesn't want their middle child to feel isolated and is considering adopting another.
"We kind of feel like we aren't done yet," Lisa Hill said.
But that doesn't stop Eric Hill from joking about their increasingly large family, perhaps in light of his wife's knack for planning.
"We use to pray to be parents," Eric Hill says, according to Lisa Hill. "Next time we are going to pray for specific numbers."
After the sealing ceremony, the end of December is about Christmas, and Christmas in the Hill house is something to behold, she said. Imagine lights everywhere, music, food, a big party for all their Texas friends.
Second to Christmas are birthday parties, and for a recent celebration, Lisa Hill coordinated a farm-themed party that included pony rides and hay rides for 60 kids.
"That's me taking it easy," she said, "So you can imagine what Christmas looks like."
Inspired by this story?
Find out more how to adopt and how to foster.
Media who would like to interview the Herbert family, contact us at info@adoptuskids.org or 888-200-4005.