The Anderson Family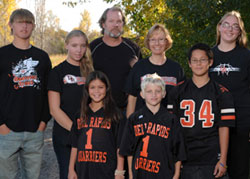 Anderson Family
Dell Rapids, South Dakota
Earlier this month, the Anderson family of Dell Rapids, South Dakota, celebrated three birthdays in five days.
It was a whirlwind of sleepovers, swimming, and a visit to the carnival.
"We've been very busy," said Peggy Anderson, 51, on a Sunday afternoon. "Today is a sit-on-the-couch-and-relax day."
The bustle comes with the territory for a household of 10. In addition to Peggy and her husband Rod, 50, the couple has six adopted children. On top of that, the family is providing foster care to two young brothers.
To say the Anderson's family grew according to plan is correct, although with a caveat.
Growing as parents
"I'm sure there was plan," Peggy said. "It was just bigger than us."
The Anderson family grew in stages, with adoptions spaced years apart. It started first with the adoption of two sibling groups. Peggy and Rod discovered, after getting some experience with parenting, they grew, and mellowed, and were better able to handle the ups and downs of raising kids.
Peggy said despite starting with three children at once without first having biological children, which usually come one at a time, the couple learned quickly from experience.
"Every single experience was new," she said. "We've definitely had on-the-job training."
Now, with two more little ones in the house, Peggy said there isn't anything more challenging now than during their first adoption.
"I can't think of a single thing," she said.
It also helps that now their older children can help out, especially the teenagers 16 and older.
"I have drivers now, so that's huge," Peggy said.
She also noted the support networks for foster and adoptive parents have improved. There are seminars, classes, and other services available now that weren't available when the Andersons first decided to begin growing their family through adoption.
Deciding to take the first step
The first step, the decision to become foster parents, came in 1996. The couple was not able to conceive. Despite assurances from doctors there was nothing apparently preventing them, the couple was given the option of fertility treatments.
Around about the same time, the Andersons saw on television an announcement from the state's governor that the foster care system was in need of adults who could provide a loving home, and it clicked.
"We went into foster care thinking, let's find out what we'd be getting into," she said.
Soon after that, the couple decided to begin the process of adoption for Audra, Jon, and Heidi, who were ages four through one.
"It wasn't a hard decision," Peggy said. "We talked about it. There are kids out there who need homes, and we have one."
In 2001, the couple adopted two more siblings, Kyler, who was three, and Chrystina, who was 15 months old.
In 2003, Austin, who was 18 months old, was also placed with the Andersons.
Deciding to adopt again
Recently Peggy and Rod decided to do it again.
They're now providing a foster home for Edson, who is almost a year old, and Jameson, who is 18 months. The Andersons have met and work with the boys' biological parents.
"We're trying to be supportive on that end too," she said.
What made them decide to open up their home again was the urging of their children. Since adopting Austin, the couple had allowed their foster license to lapse, so they went through the process again.
"They like kids, they enjoy being around them. They also recognize there is a need," she said. "They have had first-hand experience."
With older children around the house, and two teenagers of driving age, the Andersons have become more relaxed with experience, but now they have help as well.
"Actually they do a lot, there is always a lap open," she said. "There's always somebody to hold you, rock you, and read to you."
The couples' work requirements have also played in their favor, as both are able to work from home, Rod recently starting working from home regularly, and Peggy is able to get her work done at home if needed.
"If somebody's sick or something is going on, I can work from home," she said.
Having grown up in a family of six, with kids from all over dropping by, Peggy always thought she would have six kids of her own.
"I grew up in a home that always had extra kids in the house," she said. "It doesn't matter who, what where you are from, you are welcome in my house."
The couple trusts in God, and is willing to continue to open up their house to children in need.
"We see ourselves doing it for as long as we can," she said.
Find out more how to adopt and how to foster.
Media who would like to interview the Anderson family, contact us at info@adoptuskids.org or 888-200-4005.