Deciding to Pursue Fostering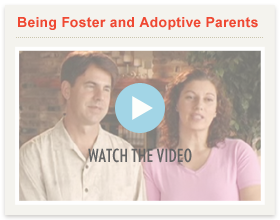 The journey to becoming a foster parent often involves many of the same steps you would take to become an adoptive parent. There are many things to consider prior to making the decision, so it's good to take your time and make sure this is the right fit for your family.
Your marital status usually won't disqualify you from becoming approved to be a foster parent. You don't need to own your own home, have children already, be young, wealthy, or a stay-at-home parent to foster.
Characteristics needed to be a good foster parent include:
Being stable, mature, dependable, and flexible
Having the ability to advocate for children
Being a team player with your family or child welfare worker

If you want to hear from real parents who have fostered and adopted, watch the video above. It's a chapter from tour film The Road to Adoption and Foster Care. You can also watch the entire film (Flash – 2:00 hr.).
What you need to do
Ready to take the next step?
If you're ready to take the next step in foster, find out about applying to foster or request to be contacted.
Educate Yourself About Foster Care
When deciding to pursue being a foster parent, we recommend finding resources that can help you prepare for the process, such as connecting with families who have fostered or contacting your local adoption and foster care agency.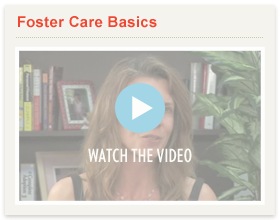 The video to the right, made available by the Children's Action Network, can answer some basic questions you might have about foster care. Child Welfare Information Gateway also provides an overview of foster care, which is also known as "out-of-home care" in the field of child welfare.
If you need help connecting with resources or a local agency, contact us. You can also contact the foster care program manager in your State or Territory.
Contact a Local Foster Care Agency
Contacting a local foster care agency is the best way to connect with resources and learn about policies to become a foster parent in your State. Choosing an agency should take into account your family's personal preferences regarding the services provided by that agency. You can either use our interactive map of state adoption and foster care information for finding a local agency, or search Child Welfare Information Gateway's National Foster Care and Adoption Directory.
If you have any questions about these resources or how to connect with a local agency, contact us.
Attend an Orientation Meeting
When you contact a local adoption and foster care agency, you will most likely be invited to attend an orientation meeting where you will find out more about:
Children in foster care
Roles and responsibilities of foster parents
The process you will need to go through to foster
Next steps to take on the journey to becoming a foster parent

During orientation, you may hear for the first time the real challenges involved with being a foster parent. It's all right to become conflicted as your emotions rise to the surface. You don't have to make any major decisions at this point, the only thing you need to do is decide whether or not you want to continue with the journey of becoming a foster parent.
If you attend an orientation meeting, all you need to do is:
Show up with an open heart and mind
Ask questions and listen carefully to what the presenters say
Take notes on things such as what you have to do next, who your important contacts are, and when the next meeting will happen

Understand the Difference Between
Fostering and Adopting
Foster parents provide a temporary home for children who, for one reason or another, have been removed by the authority of the court from the care of their birth parents or others who are legally responsible for them. These children are in the temporary custody of the State while their birth parents are given the opportunity to complete services that will allow the children to be returned to them if it is in the children's best interest.
Children in foster care can live with relatives, non-relatives, or in group facilities. Slightly more than half of children who go into foster care return to their birth families.
For children who become available for adoption, most are adopted by a relative or their foster parents. Adoption is a legally binding transfer of all parenting rights and responsibilities. An adoptive parent's legal status is the same as if the child was born to them. If you think adopting might be a better fit for your family at this time, we invite you to find out more about how to adopt.
Ready to take the next step?
If you're ready to take the next step in foster, find out about applying to foster or request to be contacted.