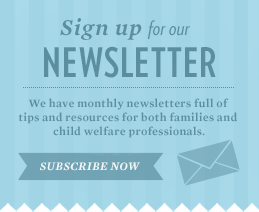 News and Announcements
Posted 3 days ago 12/4/2013

AdoptUSKids' nominees Dr. Ruth McRoy and actress Nia Vardalos are among the winners of the Children's Bureau 2013 Adoption Excellence Awards.
Posted 4 days ago 12/3/2013

What helps parents most in the early weeks and months of adding a child through adoption or foster care.
Posted 11/26/2013

In celebration of National Adoption Month, the National Resource Center for Adoption has collected adoption stories from various perspectives across the nation.
Posted 11/26/2013

Grands As Parents supports grandparent caregivers by taking phone calls during times of crisis, serving meals, and selling used clothing.
Posted 11/22/2013

On the eve of the adoption of her fourth child with husband Brian, Emily ponders what will be different now that it's official - and what won't.
National Campaign
You don't have to be perfect to be a perfect parent
Learn about the award-winning national recruitment campaign produced through a partnership of the U.S. Children's Bureau, Ad Council, and AdoptUSKids.