"I'm always here, I want to know first"
A Louisiana caseworker says being available to families is a key to her success.
August 26, 2013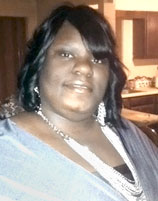 Over the years, Bryan Kobos has fostered many children. 15-year-old Jason, his son by adoption, was placed 17 times before being united with Bryan, who currently lives in Shakopee, Minnesota.
It hasn't been smooth sailing – at present, Jason is living in juvenile detention. But Bryan is committed to helping Jason, and helping him the whole time has been Jason's former caseworker, Wanda Washington, 40, adoption supervisor for the Louisiana Department of Children and Family Services.
"She's amazing, she's always been an advocate for him, always on his side, always going above and beyond," said Bryan, 39. "She really listens to parents, even through Jason's challenges, she was always there. Even if she couldn't do anything, at least she would listen to what I have to say. Even now, she still is there."
For helping him stay focused on the reasons he adopted, and for being a consistent and reassuring presence in his life, Bryan nominated Wanda Washington for our August Caseworker of the Month.
"I think it's important to know about this caseworker, and this story," Bryan said. "People need to understand, you can't give up."
Bryan counts Washington as an adviser and friend -- and because of her open-minded, accessible, non-judgmental approach, she has helped Bryan embrace the commitment.
Key to providing that help is being constantly available, Washington said.
"I'm not one of those workers you can't reach," she said. "I have them emailing me, calling me. I'm always here, I want to know first."
She said the job never stops, and it takes mighty organizational skills, but Washington doesn't find it exhausting. "It's really not," she said. "If you really want to do something, you put your mind to it and just do it. It's about what you want to do. I want to be there for families and children. I make it happen, by any means necessary."
Up through the placement and finalization process, and after, Washington has been there for him, Bryan said, adding that he couldn't have done it without her.
"He has always been challenging," Bryan, 39, said of Jason. "Every since the first month, there have been challenges. There have been good days and really bad days, but I never wanted to throw him back in the system. If he ever had a chance, that would have crushed him."
After fostering 17 children, Bryan had reached a point where he wanted to focus on one child. Plus, he had been raised by an adoptive family. He found Jason's profile on AdoptUSKids and started the process. At the time, he was living in Tennessee.
"I just thought it was time to adopt," he said. "I really liked Jason's profile, I thought, 'This is a kid who definitely needs help and a stable home.' We seemed to hit it off pretty well, so that was the main reason. I have fostered so many children, I needed a break. Having a lot of kids come and go and come and go gets tiring after a while. I was motivated to try to turn one life around."
There have been good times since Jason's placement with Bryan in May, 2012 and finalization in April, but they're currently going through a rough patch. Jason is incarcerated at a juvenile detention facility after assaulting Bryan, which wasn't the first time. Jason has also stolen Bryan's Jeep.
"That's where Wanda comes into play," Bryan said.
Despite feeling confident he can find help for Jason, Bryan said Washington's continued presence is reassuring. "Even if I didn't have all the resources in place, she would fight for him."
Washington knew early on what she was going to do with her life. She originally thought about working in law enforcement. She earned her undergraduate degree in criminal justice from the University of Louisiana at Monroe, keeping with a lifelong desire to help.
"When I was young, I always wanted to assist others and help others in any way I could. I started this when I was young girl, always trying to help friends and family members. It just carried into adulthood."
When it came time to start her career, Washington found herself drawn to the child welfare system. Children who age out of foster care have an increased likelihood of running afoul the criminal justice system, and Washington wanted to be more proactive. She started with the agency in 2006, first in family services and then in foster care. In 2008 she started working with adoptions and took over her current position last year.
"I saw that it was more beneficial than the other end of it," she said.
Washington lives in Monroe with her husband, Drexal, and their daughter, Kennedi.
Recognize an "Outstanding Caseworker"
Do you know a caseworker who has gone above and beyond to help children in foster care find permanency? If so, nominate an "Outstanding Caseworker" to be featured on our website.
---
Read more adoption stories
Share your story
---