Sharing her gifts
Foster care case work is just one way Bonnie Hollyoak helps children and families.
November 25, 2013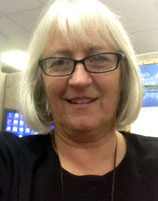 When taking a tally, it could be said that 22-year-old Katelynn Plummer is a mother of four: two small children, and two of her teenage sisters.
Neglected by her birth mother, Plummer had been removed from her custody and placed with their grandmother. Later, her two sisters were removed from their mother's custody and went to live with their grandmother. Now Plummer, of Hagerstown, Maryland, has custody of her 13- and 14-year-old sisters, in addition to her two birth children, ages 2 and 5. Although the road has not been without pot holes and detours, she is grateful to have her family together, and to be able to provide them a safe, stable place to live.
That the two girls are living with her, and engaging in their schoolwork and planning for their futures, Plummer believes is testament to one of the girls' caseworker, Bonnie Hollyoak, a foster care case worker for Maryland's Washington County Department of Social Services.
"I'm one of those people," Plummer said, referring to her stubbornness. "Please don't tell me I can't do something, because I will show you I can do it with your help or without your help. Bonnie has never told me I couldn't do something. She is there when I need to call and talk to somebody. If I'm having an issue with my sister, or an issue with my personal life, she is there. She always asks questions, she explains things to me. She has always been there."
For having faith in her and working to keep siblings together in the face of hardship, Plummer nominated Hollyoak for AdoptUSKids' Outstanding Caseworker.
Hollyoak, for her part, credits her supervisors and coworkers—including Kathleen Chaney, foster care supervisor—for enabling her to provide the personal level of support.
"If it were not for them I would not be able to make the decisions that I feel are in the best interest of families and youth in foster care," she said. "I think what makes me different is that, when I recognize someone's stress and fear, I do make a conscious effort to encourage them and say words of comfort. I do believe that God has given me a gift of encouragement as well as genuine care for people."
Hollyoak also said Plummer's determination deserves its own recognition, and she was surprised by the nomination for Outstanding Caseworker.
"She has a lot of strength," Plummer said of Hollyoak, later adding,"I was very humbled by the fact that just a bit of kindness meant so much to her."
Hollyoak, of Martinsburg, West Virgina, has worked for the agency for more than 15 years, and has been in her current position for eight years. She received her undergraduate degree in education from Morgan State University, and even progressed through most of a degree from Bethel Seminary. She received her master's degree from St. Mary's University, Minnesota, in human development. Before working with children and families in the foster care system, Hollyoak worked as a teacher in vocational rehabilitation, and as a drug and alcohol counselor for the deaf. She said she was drawn to work in the foster system to do her part to ensure families were dealt with fairly and compassionately.
Hollyoak didn't finish seminary, but the way she sees it, her life's work is in helping those who have been ignored or cast aside, and she can do that without holding the title of minister.
"I think your whole life is a ministry, not a particular job," she said.
In addition to her work in child welfare, she runs The Bread of Life Cafe, a community within the First Baptist Church of Martinsburg with a more approachable and casual fellowship than traditional church settings, attracting a diverse group of people. She is also active in Every Child Ministries, raising money for a program that helps people with albinism in Uganda.
Plummer first met Hollyoak when her 13-year-old sister was transferred into a group home. The teen had been acting out, and was having behavioral meltdowns that affected the other three children and threatened the stability of her house. Hollyoak was assigned to the teen, and almost immediately Plummer felt she had an ally.
Hollyoak asked her about her plan to keep her sisters and how she intended to accomplish it. Mostly, Plummer recalls, she encouraged her.
"If you know you can do it, put your head to it, and do it," Plummer said. "She was kind of like the mother I never had."
In August, the teen returned to Plummer's home, and since then she has shown dramatic improvement.
Both the girls are active in school and extra circular activities. The 13-year-old plans to attend college to become a veterinarian, and the 14-year-old has shown interest in the stage and is talking about attending Juliard, a prestigious performing arts academy in New York City.
"It can be hard at times, but at the end of the day my sisters love me and I love them, and I wouldn't change it for the world."
At 22, Plummer has considerable responsibility, but she always felt as though she was raising her siblings. Now they are together in their own house, and are a family.
"If it wasn't for Bonnie, I wouldn't have both of my sisters with me," Plummer said.
Nominate an Outstanding Caseworker!
Do you know a caseworker who has gone above and beyond to help children in foster care find permanency? If so, nominate an Outstanding Caseworker to be featured on our website.
---
Read more adoption stories
Share your story
---