It's all about trust
A caseworker starts by building relationships with birth and foster families.
June 25, 2013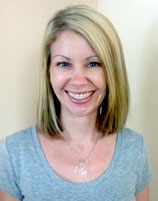 Denise Pascoal, child welfare advanced specialist for the Illinois Department of Children and Family Services in Woodstock, has taken on some daunting challenges, but has been able to realign the focus onto what is best for the children by being up front and patient with both foster and birth parents.
"There is nothing easy about being involved with us," Pascoal said of children and families in the child welfare system. "So we are trying to make it as smooth a transition as possible. That starts right from the beginning."
Getting on the same page
For her work ensuring the best interests of the children are being put first by building and mending relationships with birth and foster families, Pascoal has been selected as our June Caseworker of the Month.
In order to move forward, whether the child is going to return to their birth families, or remain in foster care with the goal of adoption, Pascoal knows it is going to take getting multiple people on the same page.
And key to accomplishing those goals is trust, she said.
"A bigger mess than usual"
An example is a case concerning two siblings – a girl, now 3, and a boy, now 4 – that she took over from a private agency. The children were split between two foster families. At some point before Pascoal took over, a rift formed, and the two families become suspicious of each other and of caseworkers, fearing their child was going to be removed and placed with his or her sibling. She was also working with the birth family of the children.
Kathy Berry, Pascoal's supervisor at the time, said this kind of thing happened frequently.
"But this was a bigger mess than usual," Berry said.
The best interests of the child
How Pascoal handled it caught Berry's eye, and led to Pascoal's nomination to Caseworker of the Month.
"Within a few months, Denise had helped the foster parents overcome their issues by building a relationship centered on the best interests of the children they would eventually adopt," wrote Berry in her nomination. "At the same time, Denise worked closely with the parents to help them make the decision to allow their children to be adopted by their current foster parents. All of her hard work culminated in two successful adoptions occurring in December 2012, with the siblings and adoptive parents attending adoption court on the same day, celebrating together."
Time, honesty, and consistency
The object became getting the families to communicate so the siblings could visit, and be a part of each other's lives.
"It took a long time to get them to believe in me, and that I wouldn't take their child," Pascoal said. "That was their fear, they would have their child snatched from them."
Time, honesty, and consistency was essential to building that trust.
"Once they learned to trust me, they knew I believe in full disclosure, and I'm not going to sugar coat anything," Pascoal said. "I believe you have to be honest with foster families."
Invested
"I think it was a lot of patience on her part to assure each family that it was in the best interest of the children to know each other," Berry said. "She built that rapport and trust, and they gave the other family a chance."
Although the finalization occurred on the same day, the adoption approval didn't.
"One sibling was approved before the other," Pascoal said. "The first family said they would wait, so they could be adopted on the same day. It was really nice. I've seen photos of them at each other's houses, they are invited to each other's birthday parties. They really have invested themselves in each other's families.
The best of her ability
When she heard from Berry that she had been selected as Caseworker of the Month, Pascoal at first thought it was Berry trying to cheer her up during a difficult day.
"I thought she was joking," Pascoal said, noting that she doesn't think of herself as going above and beyond. "I'm just doing my job to the best of my ability."
Originally from the North Shore area outside of Chicago, she has two children, 3 and 7. Pascoal was interested in studying business when she entered Carthage College in Kenosha, Wisconsin, but ended up taking her degree in criminal justice, with an inclination toward working with juveniles.
After college, she worked for Big Brothers/Big Sisters, and began with the department in 2004. First she worked in investigations, then in 2008 transferred to placements. She also went back to school and received her masters in social work from the George Williams College of Aurora University in Aurora, Illinois.
"I don't want to say it fell into my lap, it was something I walked into," she said. "It's not just a job."
The work can be stressful, Pascoal said, but she enjoys it for the variety.
"There isn't one day that is the same. I'm not behind a desk, I'm out and about. I interact with so many different kinds of people, that's the part of the job that I enjoy the most."
Recognize an "Outstanding Caseworker"
Do you know a caseworker who has gone above and beyond to help children in foster care find permanency? If so, nominate an "Outstanding Caseworker" to be featured on our website.
---
Read more adoption stories
Share your story
---