May is National Foster Care Month
Foster families change children's lives. Each May, we celebrate the contributions of parents, individuals, and professionals who work to give children in foster care a stable life and hope for the future.
May 02, 2016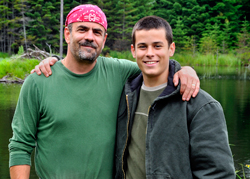 Every May, the child welfare community recognizes foster parents and thanks them for their service to children, youth, and families. Agencies across the country hold banquets, programs, and other events to honor foster parents, and the Children's Bureau works with partner organizations to launch a National Foster Care Month website.
The National Foster Care Month website provides information to help families, child welfare professionals, and others improve outcomes for youth in foster care. On the site you will find:
"Children grow to become their best selves when they are surrounded by supportive families...With open hearts, families and professionals across America work each day to give foster youth the resources, warmth, and care they need." ~ National Foster Care Month proclamation.
Fostering to Adopt
Many children adopted from foster care are adopted by foster parents. On the AdoptUSKids website you can learn more about how to become a foster parent and how to adopt.
---
Read more news and announcements
---