Picture your family on our new website
This summer, we will be launching a redesigned, mobile-friendly AdoptUSKids website. We are holding a family photo contest to collect high quality photos of real families to feature on our new site. All families who submit photos will be entered into a drawing for a new iPad mini 2.
June 09, 2016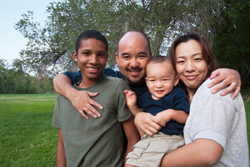 Thank you for your interest in our family photo contest!
We are collecting photos that will inspire families visiting our newly redesigned website, which will go live this summer.
Everyone who posts a photo will be entered into a drawing to win a new iPad mini 2. If your photo is being considered for use on our site, we'll ask you to send us a high resolution photo.
Photos we are looking for
You are welcome to share any high quality family photo that you think is a good portrayal of what it means to be an adoptive family and would be an inspiration to families visiting the site.
The following is a list of images that we are particularly interested in receiving.
Adoption day photos: pictures of families in courtroom or celebrating an adoption.
Candid photos of parents and children/teens relaxing and "in action": walking, talking, doing homework, having a meal, playing a game, engaged in a sport, etc.
Semi-posed photos of parents and children or teens in daily life.
Candid and posed photos of groups of children.
Please do not submit photos that include children who are currently in foster care.
How to submit a photo
If you have a photo of your family or children who you adopted from foster care that you would like to be considered for use on our site, please post it as a comment on the family photo content post on our Facebook page by 12 p.m. eastern next Friday, June 17.
If your photo is being considered for inclusion on our site, we will send you a personal message through Facebook asking you to send us a high resolution version of the photo and signed photo release.
Questions? Please send us an email.
Contest rules and requirements
Participants agree to allow AdoptUSKids, a project of the Children's Bureau operated by the Adoption Exchange Association, to use any submitted photos for any purpose on adoptuskids.org, without compensation or time limit.
Photos cannot contain children who are currently in the foster care system. Only permanent members of your family can be shown in submitted photos.
Submitted photos must be of a family or families that have adopted one or more children from the US foster care system, and at least one of those children must be present in the photo.
Participants in the contest must be US residents. At least one of the parent or guardians submitting the photo(s) for each family must be at least 21 years of age.
Qualified participants in the contest will be entered into a drawing for an Apple iPad. A winner will be selected by random drawing and notified by Facebook Messenger through the AdoptUSKids Facebook page. Winners must respond to that notification with a valid US shipping address within 30 days. Failure to do so will result in forfeiture of the prize, and a new winner being selected by random drawing from the remaining qualified participants.
AdoptUSKids is not liable for any type of damages resulting from the use of submitted photos.
No prize substitution, including cash equivalent, will be permitted.
All decisions about contest eligibility, drawing results, and all other aspects of the contest, will be determined by AdoptUSKids and are final.
By participating in the contest through the submission of one or more photos, you agree to comply with all of these terms, as well as any applicable state and federal laws.
These terms may be changed or altered without notice.
This contest is being administered by AdoptUSKids on the AdoptUSKids Facebook page. Participants agree that Facebook is released from any liability resulting from participation in this contest. Additionally, this contest is in no way sponsored, endorsed, administered by, or associated with Facebook.
---
Read more news and announcements
---