Rosie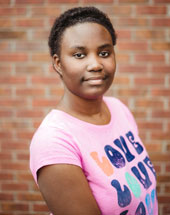 | | |
| --- | --- |
| Race: | Black/African American |
| Gender: | Female |
| State: | Mississippi |
| Case #: | MS1684 |
| Profile Updated: | 5/14/2019 |
| Photo Updated: | 4/14/2019 |
Rosie is a friendly child with a great sense of humor. She likes singing , dancing, having her nails and hair done, shopping, and writing. Rosie loves going to church.  She enjoys going to school. 
Rosie needs a loving family that will provide her with structure and unconditional love.  She does have family members that she would like to maintain contact with.   Rosie will thrive in a home where she has a sense of belonging and security.
Photographed by:  Leslie Panez Photography
Ready to take the next step?