Valentine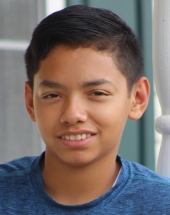 | | |
| --- | --- |
| Race: | Black/African American, Hispanic/Latino |
| Gender: | Male |
| State: | Delaware |
| Case #: | 51012289 |
| Profile Updated: | 11/21/2017 |
| Photo Updated: | 12/20/2017 |
Valentine is a healthy well-adjusted teen. Respectful and friendly, he gets along well with others. Although he is quiet and reserved, he is learning to express himself more easily. Valentine enjoys going to school and listens attentively to his teachers. Valentine enjoys playing games, fishing and spending time with his brother who he shares a close bond with.
Valentine is very close to his brother close and wishes are that they remain in contact with each other.
Ready to take the next step?