Erianya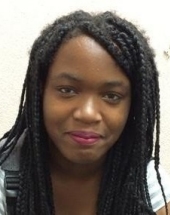 | | |
| --- | --- |
| Race: | Black/African American |
| Gender: | Female |
| State: | California |
| Case #: | 91013516 |
| Profile Updated: | 9/24/2018 |
| Photo Updated: | 9/1/2017 |
Erianya is described as sweet and quiet. She is initially reserved when meeting new people but will open up once she gets to know you. Erianya is known to have a quirky sense of humor and will laugh at things that are out of the ordinary. She also likes "to be in the know" and does well in a structured environment where everything is said upfront.
Erianya does well academically with special instruction and hopes to one day to become a police officer. Like most girls her age, Erianya takes great pride in her appearance. She is especially focused on her hair, and tries really hard to get it just so… Erianya likes reading and writing poetry. Who knows, she just might be the next Maya Angelou! She also likes listening to gospel music and attending church services.
Erianya was born in 2001 and desires to have a permanent home. She will definitely a great addition to any forever family. If you would like to learn more about Erianya, please contact the Los Angeles County Department of Children and Family Services.
Ready to take the next step?