Jason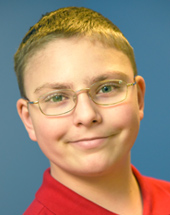 | | |
| --- | --- |
| Race: | White/Caucasian |
| Gender: | Male |
| State: | Wisconsin |
| Case #: | 3301011698 |
| Profile Updated: | 7/10/2017 |
| Photo Updated: | 7/11/2017 |
Jason is a very creative, innovative, and smart child. He loves to draw, create things with Legos, and play Minecraft. Jason loves to help around the house and finds satisfaction in small jobs he can do to help.
Jason is seeking a two-parent household, where he can be the only child. Jason has a brother who he would like to remain connected with, and would like a family that is committed to maintaining that relationship.
Photo Credit: Artist Group Photo and Video, 2017
Ready to take the next step?