Sincere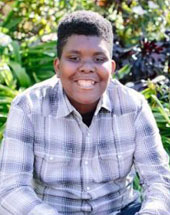 | | |
| --- | --- |
| Race: | Black/African American |
| Gender: | Male |
| State: | California |
| Case #: | 91013502 |
| Profile Updated: | 6/28/2018 |
| Photo Updated: | 6/5/2017 |
"Hello, my name is Sincere and I like to play basketball. My favorite team is Los Angeles Lakers and my favorite basketball NBA player is Kobe Bryant. I like to watch cartoons and sports shows on my free time. I like to play video games (NBA 2K). I also enjoy watching movies that are related to sports biographies (Make me like Mike) and comedies (Madea). I am dedicated person in regards to my high school. My favorite subjects in school are English and Chemistry. I aspire to be a basketball player and my backup plan is to be a Chef. I want to be a Chef because I like to eat any types of food but mostly Mexican food. I like to listen to music such as rap and hip hop. I like pets but dogs and cats are my favorite. I am part of a cooking group and participate in basketball practice. On the weekend, I enjoy going on outings and love to explore new places.
I want to get adopted and be with a loving and caring family that will support me and not give up on me. I want a family that is active and likes basketball. My friends described me as friendly and upbeat and great to be around." The above heartfelt bio was written by Sincere.
Sincere was born in 2001 and is of African-American descent. If you would like to learn more about this dynamic teen, please contact the Department of Children & Family Services.
Ready to take the next step?