Phoenix, Ayden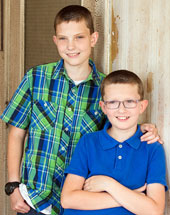 | | |
| --- | --- |
| Name: | Phoenix, Ayden |
| Ages: | 15, 12 |
Race:
White/Caucasian
Gender:
2 male
State:
Kansas
Case #:
S170110484

Phoenix, 15, male
Ayden , 12, male

Profile Updated:
6/12/2018
Photo Updated:
2/15/2018
Superhero fans and brothers Phoenix and Ayden want a family that will adopt both of them together.
Older brother Phoenix enjoys drawing, riding his bike and playing with action figures. In his down time he enjoys listening to classic rock music and playing video games. In school Phoenix enjoys using computers as he likes typing and researching stuff. When he grows up he wants to be a video game designer.
Phoenix needs a family who help him spread his wings and be the best he can be. Younger brother Ayden is confident and says he is good at many things. He really enjoys WWE and collects wrestling action figures as well as superhero ones. In school Ayden says he likes pretty much everything. He is a usually pretty happy go lucky kiddo and always has a smile on his face. When he grows up he wants to be a wrestler.
A family that can be supportive and attentive is ideal for Ayden. Both boys will need a strong tight-knit family that can provide a lot of consistency and structure.
Ready to take the next step?