Axis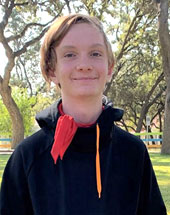 | | |
| --- | --- |
| Race: | White/Caucasian |
| Gender: | Male |
| State: | Texas |
| Case #: | TX0178745 |
| Profile Updated: | 6/5/2020 |
| Photo Updated: | 7/30/2020 |
Axis has a great sense of humor, likes to laugh, and enjoys being outside. He is well mannered, polite, and thoughtful. Axis is actively working on his behaviors and accepting consequences for his actions. He likes skateboarding, basketball, football, soccer, and playing video games. Some of Axis' favorite foods are pizza, hamburgers, and corn dogs. His favorite subject in school is math and he enjoys solving word problems. Axis makes a great effort to get along with all of his peers and befriend them. His hopes are to find a forever family who will provide him with a happy home. Axis would like a family where he would have an older sibling to teach him things. Axis is looking for is a strong male role model to look up to and learn from. Axis' top wish is to be adopted and find his forever home.
Visit me at the Bluebonnet Country Heart Gallery.
Ready to take the next step?