Keosha, Alante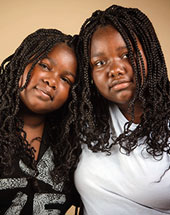 | | |
| --- | --- |
| Name: | Alante, Keosha |
| Ages: | 14, 12 |
Race:
Black/African American
Gender:
2 female
State:
Texas
Case #:
STX017749

Alante, 14, female
Keosha, 12, female

Profile Updated:
6/5/2017
Photo Updated:
10/6/2015
Alante and Keosha are sweet and loving youth. They are anxious and ready to meet their forever family. Alante and Keosha love music and love to dance. They are very bonded with one another and love to do things together. Alante does well in school and loves science. She loves anything science related, especially astrology and learning about volcanos. Keosha is a very active girl who likes to stay busy. She likes to ride her bicycle and go for walks. She loves spending time with her siblings and going to church. Alante and Keosha would like a Christian family who will be active in church. They very much want a family to care for and love them. While they may not agree on everything, the one thing that they do agree on is that they are ready to be with their family.
Visit us at the Heart Gallery of the South Plains.
Alante and Keosha will likely do best in a two parent family. They both believe that they can flourish in a home where they are encouraged to attend and participate in church. They want a family with the same values they possess. The ideal family will have experience raising children. Alante and Keosha need a family who is committed to them as well as their bond. An active family will be great for these two, not only to encourage them to meet their potential but push them to try new things. The most important thing to Alante and Keosha is to be loved, accepted, and wanted. They would like a family who will allow them to continue contact with their other siblings who are not part of this adoption.
Ready to take the next step?