Fostering Teen Parents
8/20/2013
Becoming a parent in your teens is challenging under the best of circumstances; it's even more so for teens in foster care.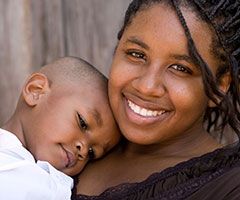 Teen moms and dads in foster care are less likely to have the stability, support, and positive parenting models required for success. The risk of dropping out of school is much higher for pregnant and parenting teens in foster care, which in turn puts them at a higher risk for unemployment. Conversely, teen parents in foster care who receive ongoing support from adult caregivers are more likely to participate in crucial parenting support services.
Foster parents can offer models of positive parenting practices for teen parents. Upon receiving specialized training, foster parents in partnership with their case worker ensure the parenting teen:
Attends school or secures full-time employment, whichever is appropriate
Takes advantage of available support and services, such as Women, Infants, and Children (WIC)
Learns to budget funds for purchasing the baby's necessities
Develops and implements a co-parenting plan with the baby's other biological parent, as appropriate
Secures a lawyer who can protect his or her rights as a parent, if necessary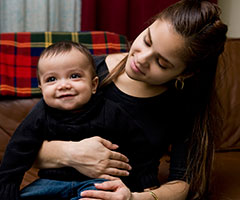 Although specifics may vary by State, foster care maintenance payments generally cover the costs of support for the teenager and his or her child. Maintenance fees for the baby are allocated to foster parents at the same rate as any other foster child of the same age, although the parenting youth retains all legal rights to and custody of his or her child.
These fees may include:
A clothing and diaper allowance for the child;
Medicaid for both the young parent and child;
Childcare;
Any special furniture or equipment needed (including, but not limited to cribs, strollers, high chairs and car seats).
For more information and resources about fostering teen parents, talk to your case worker, and read this Q&A from the Healthy Teen Network and American Bar Association; New York's Guide to Working with Young Parents in Out of Home Care; and Chapin Hall's report on Pregnant and Parenting Foster Youth.