February 2013 Caseworker of the Month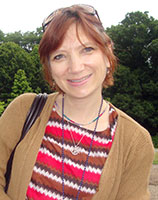 Lynn Moyer
Wilmington, Delaware
Lynn Moyer has a Ph.D. in special education and spent the first part of her career working with children and adolescents who have severe disruptive behavior.
After taking a hiatus from the workforce to adopt and raise four boys, ages 13 to 21, with her husband, Moyer returned to work three years ago with a career path pivoted toward adoption.
"I felt that it was something I was passionate about, and that I had first-hand knowledge having been on the different sides of the equation," she said. "I could have empathy for people in the different areas of the process because I had been through the same experience. My family was created through adoption."
Moyer, 51, a social worker with Children & Families First in Wilmington, Delaware, is our February Caseworker of the Month.
She was nominated by Amber Moran, of Hillsboro, Oregon, who found an 8-year-old girl on AdoptUSKids that she is now in the process of adopting. Not only is the placement being made cross state lines, but racial ones as well. Moran is white, and the girl she hopes to have placed in her home is black.
However, Moran said she has never felt alone.
"Lynn is not one of those workers you can't get a hold of," Moran said. "She is so personally involved and yet so professional. I have never had anyone quite as amazing as her."
Moran, who has been a foster parent for six years, has interacted with several child welfare workers and said there is something special about Moyer.
"Part of it is she has adopted four boys. She understands what I'm going through. She has a huge heart for the children up for adoption, and she wants to pick the best," Moran said of Moyer.
As testament to her dedication, Moran said that during a trip to Delaware to meet with the girl, Moyer picked her and her mother up at the Baltimore airport, a two-hour drive, and later dropped them off.
"She wants nothing more than the very best for the child," Moran said. "If I have any questions at all, day or night, she always gets back to me within 24 hours."
Wanting the Best for Children in Care
Moyer said she was stunned to learn she was nominated for AdoptUSKids' caseworker of the month award.
"I was incredibly honored that Amber thought I was worthy of nomination," she said. "I was amazed. For people to take the extra step to do something like this is rare. I was very honored."
Moran began her journey into adoption by checking out the resources offered through AdoptUSKids' free photolisting services for home studied families.
"I was one of those people who inquired about lots of kids," she said with a laugh.
She received positive responses from caseworkers who read her home study, and it was one of those caseworkers, Celeste Bishop of A Better Chance for Our Children, who passed her information along to Moyer. Moran also mentioned another caseworker, Merrijane Pierce, of Children & Families First, as being instrumental to helping her.
Moran described herself as not very computer savvy, but said AdoptUSKids offer resources that are accessible to less-experienced computer users.
"I saw her picture, read her story, got an amazing caseworker," Moran said. "Everything fell into place."
She is hoping the adoptive placement of the girl will be approved soon, and added that Moyer has been supportive of her and the girl through the entire process.
"She knows how I am feeling," Moran said. "She is constantly encouraging me and lets me know she is there."
Using Child-Specific Recruitment Strategies
Although Moyer's title is "social worker," she is involved in several programs related to children in the foster care system.
One role of her position is working with a child to help him or her explore their past in order to move toward the future as part of a family. The process, known as child-specific recruitment, is often led by the child and helps them envision what it means to them to have a family.
"Through this I get an idea of what kind of family I am looking for," Moyer said. "And then I start the search."
"My goal is to avoid what is called a 'disruption,' which can happen when a child is placed with a family and it does not work out," Moyer said. "When you work with these children you really need to understand the world through their eyes, and the grief and loss and trauma they have been through. Every placement, every movement, is another loss. We do whatever we can to select a family we feel will be their permanent family."
A committee makes the final decision on placements, and part of Moyer's duties is to cast a wide net.
"Typically we may find more than one family, it's not for me to say, 'This is the family,'" she said, noting that she identifies up to five prospective families.
"I find as many families as I can for each child," she said.
Moyer said she tries to stay in constant contact with families, going beyond phone calls and emails to text messages and in-person meetings if possible.
"I think that is very important," she said. "There are so many things outside of our control. In my little niche in it, I do everything I can so that it goes as smoothly as possible."
Every Family Looks Different
Moran, who has been researching transracial and transcultural adoptions, already has an ethnically diverse family. She has an African-American aunt, her sister adopted two African-American children, and her best friend adopted an African-American girl.
"I just want her to feel comfortable," Moran said of the girl she is hoping to adopt.
Moyer said she engages families intending to adopt across racial lines on how to handle questions from random strangers to their extended families.
"Parents also have to be prepared to answer their child's own questions," she said.
Moyer said every family looks different.
"We have all kinds of families, no two families are the same," she said.
Inspired by this story?
Download the February 2013 Caseworker of the Month press release (PDF - 52KB)