December 2012 Caseworker of the Month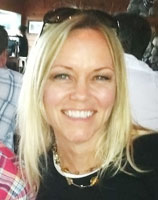 Alyssa Bambard
Bloomfield, Michigan
Initially, Randie Randolph of San Bernadino, California, was interested in adopting one child, a girl, she saw on AdoptUSKids and not a sibling group of two.
The girl's caseworker, Alyssa Bambard at Adoption Options Worldwide in Bloomfield, Michigan, originally doubted placing the child with Randolph. However, after talking with Randolph, Bambard ultimately recommended her for the placement of the girl and her older brother.
"I don't think any other worker would have done this," said Randolph, 57, of Bambard, who is now the adoption director for Adoption Options Worldwide. "She was there through it all, she is a remarkable person. If I had the Nobel Peace Prize to give her, I would give her that."
For her dedication to recruiting families by communicating with them regularly, and for doing the work of digging deeper to know the family, Randolph nominated Bambard as AdoptUSKids' December Caseworker of the Month.
"I'm somebody who loses sleep about kids, and their next home, and knowing they only have one shot at childhood, it's fleeting," Bambard said, adding that everything is in place these days for rapid and sustained communication between families and caseworkers.
"Nowadays we have webcams, email, texting – there are so many different ways to keep in touch that are relatively easy to do," Bambard said. "There shouldn't be an issue with being able to maintain contact."
A Search for One Led to Two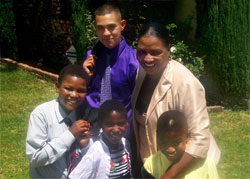 Randolph first tried looking for a child in California, starting in May of 2009. More than a year's work yielded nothing. She then expanded her search nationwide by setting up an account with AdoptUSKids.
"I was determined to go where God led me," she said.
It was using AdoptUSKids free photolisting service that she struck upon a picture of Cheyenne, now 8.
"There was something behind the eyes," Randolph said. "Just looking at her, I said, 'Lord, have mercy. My baby.'"
Taking a Second Look at Home Studies
Randolph's home study was one of 76 that Bambard reviewed when she was trying to place Cheyenne, who has special needs. Because Randolph's home study led Bambard to believe that Randolph's grandson, Zion, age 10, would be living with her, the placement wouldn't be a good fit.
Randolph describes the initial courtesy call from Bambard of not being a match as a gesture that although disappointing, was better than no gesture at all. The two not only resolved the issue that came up in the home study, because Zion wasn't going to live with Randolph, they also explored Randolph's level of commitment and experience in foster care.
During the call, Randolph learned Cheyenne's brother, Charles, now 10, was also in care, and officials were considering splitting them up given the accommodations required for their special behavioral needs.
"What was supposed to be a common courtesy call to let me know I wasn't a match turned into an adoption," Randolph said of the moment the ball started rolling for her family. "Alyssa heard something. She could have tossed it off, but she didn't."
The children had already endured one failed adoption, and Bambard was concerned any family that took the brother and sister would have to be realistic and prepared to deal with the challenges.
They chatted over the Internet with the use of a Web cam, exchanged messages, and before long the children headed out west. The adoption was finalized in February.
What It Takes to Adopt
Along with Cheyenne and Charles, Randolph has three other children, Isaac II, 36, Sylvia, 32, and Matthew, 18. Having had children already is part of what made Bambard confident she had found a match in Randolph.
Randolph credited Bambard with not only performing her due diligence when recruiting her – by keeping the lines of communication open – but also for making sure she was convinced Randolph had a realistic idea about how the children would adapt to their new home, and how their new home would adapt to them.
"A lot has happened to them," Randolph said. "She was being protective of me and the kids."
In addition to commitment on the part of families, Bambard said she looks for experience dealing with children who had suffered abuse and trauma, and a capacity to work with those issues continually.
"You can't place children with high needs in a home with somebody who has absolutely no experience," Bambard said.
The fact that Randolph was in another state, and not a nearby one at that, was of little concern to Bambard.
"To me, interstate adoptions can be such a good deal. I have a hard time understanding why workers shy away from them. It's a little bit of extra paperwork."
Making Adoptions Happen
That extra work seems even less daunting when a parent demonstrates commitment and initiative, a necessary part of successful placements. What works best, Bambard said, is when families locate children that interest them, and then contact Bambard so she can take it from there.
"You have to be persistent, tenacious, if this is something you want to help make it happen. You can't just sit back and wait for the child in your mind's eye to pop in your lap. It doesn't typically happen that way. If you want to adopt, you have to keep the wheels in motion and be willing to invest the time and energy. The search is nothing compared to what you need to do to parent these kids. If you're not up to the task of searching you are not up to the task for parenting."
Bambard said she found these qualities in Randolph. Add in her experience as a foster parent, and Bambard knew that not only could Randolph handle one child, she could take on two.
"She had dealt with pretty much everything," Bambard said. "Sex abuse, food hoarding, self harm, she wasn't freaked out about it."
Cheyenne and Charles were no exception. "Nothing is easy about those two kids," she said. "I had many sleepless nights trying to find the right family for them."
Now that she knows they are with Randolph, she rests easier.
"I have not worried about them one bit," she said. "I know they are being well cared for and loved."
Finding a Good Fit for Herself
Social work and adoptions are a second career for Bambard, whose first career was in specialty food sales.
"Which absolutely has nothing to do with child welfare," she said with a laugh.
After living abroad in Germany for a year, she returned with an interest in finding a career that was more meaningful to her. She started working in adoption in 2005.
"I love adoptions," she said. "I think it is absolutely the crème de la crème of social work. It has its challenges, but when you make a great match, like the match with Randie's family, it's just fantastic."
Starting in college, Bambard became a Big Sister volunteer and remained paired with a girl for six years. She was first exposed to helping others through her mother.
"That was kind of the culture in our household," she said.
Bambard earned her undergraduate degree in psychology and communications with a minor in management from Western Michigan University. She later earned her Master of Social Work from the University of Michigan.
Bambard and her husband, Tom, have a son, Nicholas, 9.
Inspired by this story?
Download the December 2012 Caseworker of the Month press release (PDF - 52KB).