Sixto's Story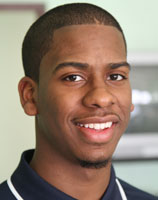 Sixto
Richmond, Virginia
Sixto Cancel may have spent a large chunk of his young life in foster care without the sense of permanency young people need to make successful forays into adulthood, but that doesn't mean he lacks a grasp of common sense.
"You know that saying parents like to say, that if you don't do it right the first time, the second time is twice as hard?" asked Cancel, 20, a soon-to-be sophomore at Virginia Commonwealth University.
"A lot of States are starting to see it that way."
Research into how the adolescent brain continues to develop into early adulthood is changing prevalent attitudes about how long foster youth aging out of the system should continue to receive support. Traditionally benefits are terminated at age 18, but with federal funding available to help pay for continuing services into the early adult years, more and more States are moving toward extending benefits.
Advocates are heartened by this change in thinking, considering about 30,000 young people transition from care without ever achieving a permanent living situation, also known as "aging out," according to the Jim Casey Youth Opportunities Initiative. The Initiative is a national foundation devoted to helping young people leave the foster system and begin productive lives.
Cancel, a member of the Initiative's Opportunity Passport program, has been an advocate for foster youth from early on, working to inject the voices of foster children into the public dialogue. As an alumnus of Connecticut's foster care system, he is eligible for benefits until age 23.
"Our young people do want to be successful and get their education, but without the proper support system they can't achieve that," he said, noting the system has shown dramatic improvement in recent years.
"When you don't do things right the first time you are going to suffer" with high social costs, he said.
He points to statistics that illustrate the dismal college graduation rates of foster children aging out of the system – fewer than 3 percent will graduate from college by age 25 as compared to 28 percent of all 25-year-olds, according to the Initiative.
Slim Margin of Error
Just like States have one shot at helping foster youth transition into adulthood, foster youth themselves have a slim margin of error.
"In order to become an adult, you have to take risks," said Lynn Tiede, policy director for the Jim Casey Youth Opportunities Initiative.
For children with permanent support networks in place, there is room to make mistakes and judgment errors like failing a class or flopping at a job. But for foster alumni, one mistake can result in losing benefits. This is because to receive services and support they have to be enrolled in school, hold a part-time job, and other requirements, Tiede said.
At a time when it's normal to push boundaries and occasionally fall on their face, this puts foster alumni in a difficult position.
"They absolutely have to maintain school and work to continue to get these resources. If they mess up, like many of their peers, they lose all of their support," Tiede said. And messing up shouldn't be a luxury, she said, when research shows that taking risks is a necessary part of the maturation process.
The Initiative, in its report The Adolescent Brain: New Research and Its Implications for Young People Transitioning from Foster Care (PDF - 279KB), outlines a series of proposals to improve the system for foster alumni, with the goal of establishing a solid network of support by age 25.
In addition to buttressing the argument for extending benefits, Tiede said the research cited by the Initiative shows early childhood trauma can be overcome.
"There is no 'point of no return,'" she said.
Working to Improve the System
In Cancel's case, it was growing up in foster homes in Bridgeport, Connecticut, and watching the struggles of older foster youth that motivated him to not only persevere, but to work to improve the system for future generations.
"I think that really opened my eyes," he said.
His own experiences provided motivation as well, first by making him angry at what he and other youth were forced to endure, and second, by making him passionate about changing the system for the better. To this end, Cancel is working with other former foster care youth to launch a nonprofit called Rising Tides that recruits donors to give through online contributions toward asset building for youth leaving the foster care system.
One improvement that can be made is to ensure some degree of education continuity for children being moved into and between foster homes. When young people change homes sometimes they change schools. He cited studies that say a child's academic progress can be pushed back by six months for each move.
"When you think of a child that has moved three or four times that school year, just imagine how far that can set a child back," he said.
He has also been involved in civil and gay rights organizations, seeing his work as interconnected.
"All these issues are connected to make sure young people have the maximum opportunity for well-being," he said.
Inspired by this story?
Find out more about: