How We Help Child Welfare Professionals

Whether you work for a public or private agency, we have a range of services and resources for busy child welfare professionals like you. From recruitment and retention strategies to child and family photolistings, we're here to assist you in connecting foster and adoptive families with waiting children.
New Resources for Diligent Recruitment
The National Resource Center for Diligent Recruitment (NRCDR) at AdoptUSKids is excited to announce the launch of a new website: www.nrcdr.org. This new site has a wealth of information, ideas from the field, publications, and other resources to help child welfare systems recruit, retain, develop, and support foster, adoptive, and kinship families.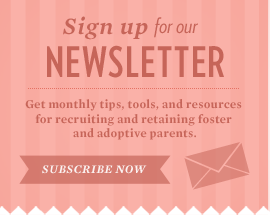 Featured Child
Name: Timothy
Age: 14
Location: West Virginia
Tim, 14, is an active young man with a good sense of humor. You'll often find him riding his bike or playing video games. Tim would do well in a home where there are older siblings.
Featured Siblings
Name: Dereck, Dominick, Meleny
Age: 9, 8, 6
Location: Oklahoma
Meleny, 6, is quiet when you first meet her but will show her silly side after she gets to know you. Brothers Dominick, 8, and Dereck, 9, are active boys who enjoy sports and love playing with their action figures.