Creating Child Profiles on AdoptUSKids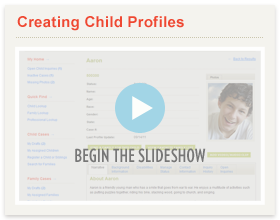 Showcase the wonderful personalities of children on your caseload by using our photolisting services to create multi-media profiles using photos, video, and text.
By registering for free with AdoptUSKids, your agency can share these profiles (see a sample in the slideshow above) to a national audience of child welfare professionals and families who are home studied and approved to adopt from foster care. Both public and private child welfare agencies can register for free with AdoptUSKids to access this service.
Share Only the Information You Want to Share
When you photolist children on AdoptUSKids, their privacy is ensured by offering different levels of access to information based on whether someone is part of the general public, another registered professional like yourself, or a registered family.
You can see more information and details about these features using the slideshow above. Also see Lasting Impressions: A Guide for Photolisting Children (PDF - 615 KB)