How We Help Child Welfare Professionals

Whether you work for a public or private agency, we have a range of services and resources for busy child welfare professionals like you. From recruitment and retention strategies to child and family photolistings, we're here to assist you in connecting foster and adoptive families with waiting children.
Resources for Diligent Recruitment
The National Resource Center for Diligent Recruitment at AdoptUSKids website has a wealth of information, ideas from the field, publications, and other resources to help child welfare systems recruit, retain, develop, and support foster, adoptive, and kinship families.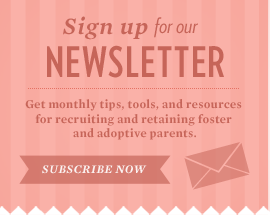 Featured Child
Name: Cami
Age: 17
Location: Delaware
Cami, 17, is a bubbly, affectionate teen with a lot of love and laughter to share. Diagnosed with cerebral palsy, Cami stays active by swimming, playing bells, and going to church.
Featured Siblings
Name: Miracle, Tierracole
Age: 14, 13
Location: Ohio
Miracle, 14, is a multi-talented teen. Her interests include sports, singing, and writing. Tierracole, 13, is the artist in the family. She works in media including paint, ceramics, and paper.