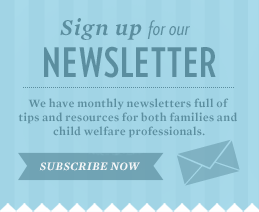 News and Announcements
Posted today 12/11/2013

The Foundation for Foster Children pays for help Florida's foster-care system does not cover, including desperately needed academic tutoring.
Posted yesterday 12/10/2013

Comparisons between same-sex and heterosexual couple adoptions show no differences except a slight tendency towards more harmony in gay and lesbian homes.
Posted 7 days ago 12/4/2013

AdoptUSKids' nominees Dr. Ruth McRoy and actress Nia Vardalos are among the winners of the Children's Bureau 2013 Adoption Excellence Awards.
Posted 12/3/2013

What helps parents most in the early weeks and months of adding a child through adoption or foster care.
Posted 11/26/2013

In celebration of National Adoption Month, the National Resource Center for Adoption has collected adoption stories from various perspectives across the nation.
National Campaign
You don't have to be perfect to be a perfect parent
Learn about the award-winning national recruitment campaign produced through a partnership of the U.S. Children's Bureau, Ad Council, and AdoptUSKids.