January 2013 Caseworker of the Month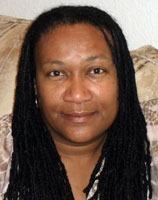 Deborah Motley
Port Charlotte, Florida
It was a couple years into the adoption process, and Tracey Codd-Lorenz's patience had run out.
She and her husband, Joseph, of Port Charlotte, Florida, had been asking questions and maintaining their side of the two-way communication street, but it felt the system had ground to a halt. Her inquires went unanswered with emails and phone calls going unreturned too many times.
Exasperated, she sent an email to Lutheran Services Florida's Post Adoption Case Manager Deborah Motley, 47, of the agency's southwest region office in Port Charlotte.
"I'm out," the email said.
Five minutes after she sent the email, her phone rang.
"It was her," Codd-Lorenz said of Motley. "She said, 'You're not out, it's going to be OK.' And just that reassurance, saying you're not alone, I'm here, you will get the answers you need, don't give up, you're too good, I'm not going to let you go, made the difference."
Codd-Lorenz said Motley supported them, alleviated their fears, and made them feel that no matter how long it took, they could depend on having somebody on their side.
"She just has a way of planting both feet in the ground," Codd-Lorenz said of Motley. While noting she has met other excellent caseworkers, Motley knew just what to do. "If not for her, we would have tossed the idea [of adopting] aside."
Retaining Foster and Adoptive Families
For her ability to retain families by engaging them on a personal level while comporting herself as a professional, Codd-Lorenz nominated Motley for AdoptUSKids' Caseworker of the Month. She also credits Motley with encouraging her to open up her home to foster children. As a result of the experience, Codd-Lorenz was inspired to become an advocate for adoption and foster care.
"She holds a level of professionalism with compassion that brings a whole new understanding and level of comfort throughout the adoption process," Codd-Lorenz wrote of Motley in her nomination letter. "She is, simply put, incredible!"
In May of last year, two brothers ages 2 and 3 were placed with the Codd-Lorenz family. They expect to finalize the adoption soon.
"Any day," Tracey Codd-Lorenz said, noting that the best part of her day is when she returns home and her sons come running to meet her.
In the end, Codd-Lorenz says it was Motley's steady, warm presence that shored up the couple's resolve. What also counted, though, were the little things.
"She remembered my dogs' names," said Codd-Lorenz with a laugh. "I know that sounds silly. But just to know she paid attention. I have friends for 20 years who don't know my dogs' names. Her personal touch and the comfort she provided are what kept us in."
Making the Adoption Process Less Intimidating
Motley understands that beside the daunting prospect of bringing a child into a family's home, the process that precedes that – the home study and being matched – is nerve-wracking unto itself.
"To me, it's a scary process from the start," Motley said. "I have to get on their level, and make them comfortable. I tell them, 'I'm here. We're going to make it. We are a team.'"
It helps to be a naturally down-to-earth and genuine person. When families feel they are talking to somebody who is not judging them, they feel they can relax, Motley said. It is especially important during the home study process, when caseworkers are required to dig deep into backgrounds to ensure a child is matched with the right family.
Motley said families are required to disclose highly personal information, "And they are doing it in front of a stranger, somebody they don't even know."
The process can also be intimidating because it asks prospective parents to reexamine their lives.
"I think it forces people to reflect on their pasts," Motley said. "It opens doors that may not have been open before. People will realize, once they start talking, 'Wow, I didn't even remember that until you brought it up.'"
Helping Recruit Foster and Adoptive Families
When the Codd-Lorenz family decided to adopt, they were interested in older children.
It was well into a frustrating process that they realized the private agency they had contacted focused exclusively on infant adoption. Codd-Lorenz said she felt misled, and had invested time and money she couldn't get back.
"Then I stumbled onto Deb Motley," she said. "She answered all my questions. She got back to me. She broke it down and simplified the whole process for both of us."
Codd-Lorenz also noted that while her search went far and wide, she found her caseworker in the town where she lived.
The couple had also decided they did not want to become foster parents, Codd-Lorenz said, because she didn't think she could bring a child into her home only for him or her to leave.
"She told me to keep an open mind," Codd-Lorenz said. Since that conversation with Motley, she has changed her position, and plans to begin fostering children once the adoption of her sons is finalized.
She has also been hosting classes and parent meetings in a building she owns, and has done some recruiting herself, referring prospective parents to local agencies.
Helping Children Find Permanency
Motley said she is excited to be AdoptUSKids' Caseworker of the Month.
She began her career in social work with the state of Florida in 1989, but moved into child welfare in 1998.
"My biggest calling was to do something with children," she said. "Then I got into adoptions, and I found that more gratifying, getting children permanency, making lasting connections with families."
A native of Arcadia, Florida, Motley received her undergraduate degree in interdisciplinary social science from the University of South Florida – Tampa, and lives in Port Charlotte with her husband, Harry, and their son Harry and stepdaughter Leetoria.
Inspired by this story?
Download the January 2013 Caseworker of the Month press release (PDF - 52KB).