Tanya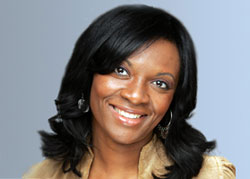 Tanya
Bedford Hills, New York
Tanya Cooper, 45, of Bedford Hills, New York, has made her life mission to change the face of foster care one child at a time.
Inspired by mentors in her own life, Cooper prevailed through 16 years in the system to become a youth activist, writer and motivational speaker. She shares with us her story of having the courage to become her own hero.
In Tanya's own words
Changing the face of foster care one child at a time is a motto I created years ago.
Having survived the system from ages five through 21, I experienced the neglect, abuse and abandonment most foster kids go through.
I became a ward of the court at five years old along with my three siblings. My mother, an alcoholic and substance abuser who eventually died from her illness, would often leave us for hours, days, weeks and months on end. The one day, she just never came back.
After much contemplation, my seven-year-old sister decided she'd had enough of mothering and called Child Protective Services. Over the course of the next 16 years, I lived in three group homes, three foster homes and many other homes.
My first foster home at age six was short lived because the three older brothers tried to abuse me. We were sent back to a group home and my sister was separated from us.
At age seven I was moved to a home where two of my foster brothers abused me for years. When this was discovered, it was covered up and I was sent to a group home in New York City. My life became a big blur and I felt hopeless. The only things keeping me going were my brothers and knowing God had a bigger plan for me.
The group home in New York turned out to be a blessing. It's where I befriended a counselor named Gmilah who not only took me under her wing, but she showed me self control and how to use my talents for releasing all the anger inside of me. She refused to give up on me or allow me to blame others.
Another turning point in my life was when I met the late, great civil rights activist Dr. Betty Shabazz, the widower of Malcom X. After her husband's assassination, this woman went on to raise six girls by herself while getting a Ph.D. I was only a teen, but she had such a look of hope and expectation when I met her that it made me want to work on myself and get more out of life through education because I knew that was something no one could take away from me.
I went on to attend the Fashion Institute of Technology in New York and joined their models club. It was there I gained much needed confidence after being told for years by my abusers that I was ugly, stupid and worthless. I eventually left school to live in Paris where I learned a new language, culture and about more about myself. I later returned back to New York and finished my education at New York University.
Even without a family, I was able to live a meaningful life after foster care. I discovered life is what we choose, even in foster care. I feel aging out should be like a graduation day in completing something that will help you move forward. Right now many kids are scared to leave because they have not prepared.
Currently, I am a youth activist and motivational speaker, writer, and a freelance reporter. I recently spoke to foster youth in Arizona and New York, encouraging them to be their own hero and seizing every opportunity they can. It's my life mission to show kids in foster care that they can control their destiny and gain ownership of their lives. I want them to see that abandonment and foster care is only one thing that has happened to them. If they feel empowered to live and enjoy life, many good things will happen, including reaching their full potential.
You can often catch me blogging to adults who have aged out of foster care and need words of encouragement at Ex Foster Kids Unite. I also recently finished my first book Surviving Foster Care and Making It Work for You and hope to have it published this summer.