Lauretta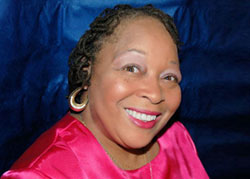 Lauretta
Stone Mountain, Georgia
Lauretta Ali, 58, of Stone Mountain, Ga., is an actress and author of the book Survival of the Fittest…One Child's Life in the Foster Care System. She has also served as a group mentor with the Foster Children's Foundation in Georgia helping teens aging out of the system.
Ali lived in foster care during the 1950s before being reunited with her birth mother. She shares with us her journey and the positive difference living in foster care can make in a child's life.
Lauretta's story in her own words
My experience with the foster care system began in 1951. My mother was the separated wife of a U.S. Army serviceman. My father was a handsome, single truck driver—a reformed ladies man (or so he said). My parents weren't married. My brother and I had not the faintest idea of that situation. Our lives with our parents as toddlers I remember with a yearning even to this day. Our illegitimacy by society's standards didn't concern our family the least. My brother and I had a mom and a dad. My mother appeared to love my father unconditionally.
My father's infidelity had been going on for some time. But, it took one solitary act on a single, normally quiet night, to change the entire course of our lives. My brother and I entered into a world of love and terror. We were placed into loving foster care homes after a brief and forgettable stay with a woman whose career had to be taking care of foster children. It is a career that she certainly didn't need. She had so many of us to care for! She babysat for many women in the neighborhood who worked alongside their spouses to provide for their families.
Yet, back to my telling you about the loving foster care mother I was blessed to have been touched by during my stay in her home. She and her husband, with their two teenage daughters, helped me to heal after the break up of my parents' relationship. My brother and I were split up and sent to different foster parents. But each set loved us in a way that we always remembered. They were our parents in every sense of the word. Fitting to a tee the definition of "parents and their children," they lived for us. Because both couples were friends, my brother and I saw each other often. My foster mom got attached to me and requested to adopt me. What a mistake that was in the 1950's. We loved each other so much. I must admit to you. I don't know where she is and I still love her so much.
Yet, I still remember my mom fighting to get us out of the foster care system. She worked long hours, different shifts to singularly raise my brother and me. We were never hungry and we always had clothing. A proud African American woman, my mom wasn't ever on welfare. God knows, she needed the help. My dad wouldn't pay a bit of child support if his life depended on it. He was a ladies man and still is today. We were latchkey children. We knew to come home, do our chores, hit the books, not to let anyone into our home until my mom came home. I knew this at eight-years-old and I fully understand why my mom had to leave us alone. Money for daycare services? I don't think so!
I believe the child should remain with the parents who best suit raising the child. I often imagine how different my life would've been in Long Island with the Browns versus being raised in a New Jersey housing tenement with my mom. Would my dream of becoming a successful actor and writer have been fulfilled with Louise Brown in my corner? Who knows? I often think of what could've been. Yet, being raised by my mom in the projects helped to mold me into the survivor I am today.
Which side am I on regarding the issue of foster care? I am on the side of right. I believe the child should remain with the family who offers a safe and loving environment. No one asked me if I wanted to leave the Brown family or how I felt about being adopted. I wasn't old enough to have an opinion, yet, I was old enough to become the sexual target of one of my foster fathers! The parents who want to be parents should be allowed to raise children. Often, that doesn't mean the blood relatives are best suited. If it means we have to pay a little extra out of our pockets, then may Almighty God save the children! To say we don't know the abuse suffered by young people in foster care or group homes exists is just putting our heads in the sand. Yet, there are some foster and adoptive parents who are the answer to a young child's prayers. I know! I remember you, Mama Louise!